It is no secret that CBD products are becoming habitual products that consumers prefer for reducing their depression, anxiety, pain, and stress. But there is a challenge with making choices because the market has several products. The CBD Capsules vs. CBD oil discussion is hitting hard, and it will be helpful if myths and realities are separated.
There are some significant differences to be aware of, even though the decision is frequently based on personal preference. The article will deliberate on the key facts separating CBD capsules and oil. Furthermore, we shall deliberate on the CBD capsule's health benefits and reasons that may make it preferable to CBD oils.
What are CBD Capsules?
CBD capsules are among the best-selling products in CBD products following their ease of use, versatility, and accuracy in dosage. CBD capsules are the solid form of CBD that can be non-Gelatinous or even exist in a gel Casing. they usually come in types containing, full spectrum, broad spectrum and isolate CBD
It would be best if you swallowed the CBD capsules with a glass of water. It goes through the digestive system and takes longer to feel the effect. No one needs to undergo training to swallow a pill, so it is easier for anyone to use CBD capsules.
What is CBD Oil?
On the other hand, CBD oil is a liquid form of CBD, which holds a record as the most versatile product. There are three common methods of inducing CBD into the body. One can decide to use the dropper, which measures out a serving. You place the oil under the tongue and wait 20 to 30 seconds before swallowing.
The CBD oil bottles normally have a 1ml dropper, which is a full dose. The sublingual glands absorb the CBD oil directly into the blood vessels hence their immediate impact on the body. Furthermore, you can infuse CBD oil in smoothies, creams, and massage oils, but it is important to note that such conventional methods affect the efficacy of CBD oil. the oil are also can be found having both full & broad spectrum while the isolate oil is a bit rare in the current market.
What are the Main Differences Between CBD Oil and Capsules?
Typically, carrier oil, flavorings, and a CBD extract type (full-spectrum, broad-spectrum, or isolate) are used to create CBD oil (optional). They might also contain substances that have additive effects or boost CBD's health advantages.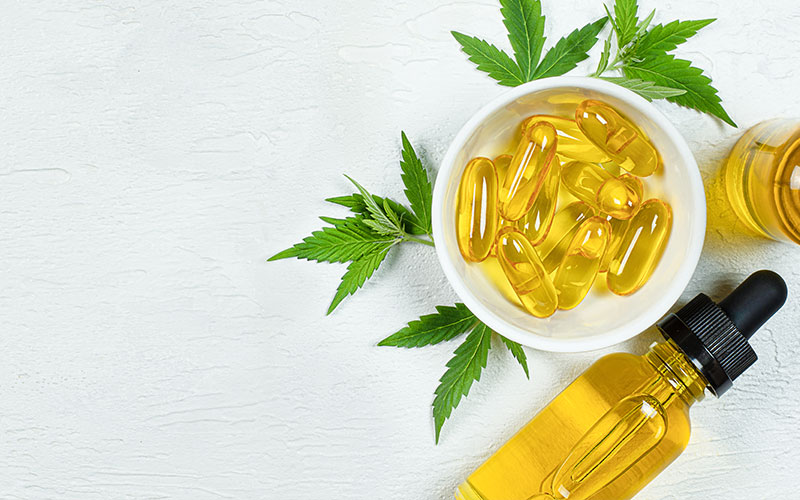 The same hemp extract and carrier oil are present in CBD capsules, but unlike CBD oil, this product has no taste or odor. The soft gel shell that protects the capsules makes swallowing them simpler. So conclusively, CBD capsules vs. CBD oil uses the same Extracts.
Perhaps, there could be a reason why CBD capsules and oils favorably compete in the market. Now, look at the key factors that compare CBD capsules to CBD oil. In this post, we'll examine CBD capsules and compare them to CBD oil to see how they stack up. It's time to compare them as staple items in the wellness market. Everyone has their preferences when it comes to using CBD products for overall well-being. There are no CBD products that are universally suitable for everyone's needs.
Here we've put together a table showing the key differences between the two CBD products:
| | |
| --- | --- |
| CBD Capsules | CBD oil |
| They are Less Messy | They can get messier, especially when you handle them carelessly |
| The CBD capsules do not have Bioavailability or texture | They are highly bioavailable |
| Hard to swallow, but can be easy with a cup of water | Easy to swallow |
| Easy dosage, because of their accuracy | May be hard to get exact dose due to spills and inaccuracy of the dropper |
| They are discreet and easy to carry | Not discreet and hard to carry |
Why Choose CBD Oil?
CBD oil has been in the market longer than Capsules and, therefore, superior to CBD pills. If you want to get the most for your money, it will be prudent to consider CBD oils. It is a result of its higher Bioavailability.
In contrast to the capsules, CBD oil allows your body to absorb a higher amount of the substance. The ways that CBD oil and capsules are administered are different. A few drops of CBD oil should be placed beneath the tongue to be consumed sublingually.
The oil is absorbed through the tongue's tissues and enters the bloodstream. When CBD capsules are taken orally, they pass through your digestive system and into your circulation. Only after entering the bloodstream does CBD become active. But of course, not everyone will choose CBD oil because everyone has a specific prevalence and needs.
Why Choose CBD Capsules?
You cannot ignore the benefits of CBD capsules; therefore, it is vital to consider them in depth. Some of the best CBD Capsules have specific features that make them highly appealing. First, they can come as a vegan friendly product. Secondly the ingredients used in capsules offer more versatility. Thirdly the dose is generally predetermined so you don't have to worry about that. Finally, the ease of use of any given product frequently depends on the individual's lifestyle, surroundings, and wellness objectives and requirements.
However, because of their discretion and simplicity of usage, CBD capsules are frequently regarded as the height of convenience. Additionally, simple, pre-measured CBD portions are used to make capsules. CBD capsules can exist in different doses depending on the brand that you are buying your product from. Therefore, checking the doses and specifications of any brand you choose is prudent.
CBD Oils or Capsules -Which Is Best?
On the choice you will make in CBD capsules vs. CBD oil, it is solely a decision you will make based on your preference. Each of them has specific merits and demerits, and you should weigh between the merits, demerits, and Your needs.
Note that their variations arise from the appearance, versatility, and even the mode in which you will consume them. While it is true that you cannot rank any product to be better than the other one, you should always have quality as the top consideration because it will guide you in choosing the best CBD oil and CBD Capsules.
Final Thoughts
In conclusion on the comparison between CBD oil and CBD capsules, it is evident that before you decide which product will be best for you, four considerations come in handy. First, why are you suing the CBD goals? It is important to define your goals because it greatly informs the choice that you will make.
Note that capsules go through digestion, and the impact will be felt after 30 minutes, but it will last longer. For CBD oil, the effects are felt almost immediately, but it won't last long.
Secondly, you should be able to define your dosage because it greatly informs whether you can opt for a capsule or a CBD oil. Other considerations include your taste perception. CBD oil will have a earthy taste, and if you cannot persevere the taste, it will be better to consider a capsule that is odorless