One of the best and easiest ways of consuming CBD oil is through vaping. A lot of people who suffer from chronic pain and other medical conditions usually use CBD oil vape pen for quick relief.  As much as most people would love to use CBD oil vape pen, the starter users may find this to be a very challenging task. This article outlines important details that will help you understand how to vape CBD oil, its benefits, and the equipment required.
What is CBD Vaping and Why it's Popular?
CBD vaping is the process of inhaling and/or exhaling CBD vapor that's produced by an e-cigarette. To many users, CBD oil vape juice provides an instant effect. Although edibles and topical are good, their effect usually takes minutes and hours before they can be experienced. Edibles have to go through the process of digestion before they can be absorbed. People suffering from anxiety, seizures, as well as chronic pain, usually opt to vape because of the immediate benefits that it offers. Additionally, it provides users with privacy. They can easily take CBD-based products in public because all they need is a CBD vape pen.
CBD Oil Vape Pen
All the CBD vape pens are not the same. However, all of them have these basic parts: the atomizer which is the heating element, the mouthpiece, battery, and the chamber which holds the vaping material. The atomizer is responsible for heating the CBD oil and vaporizing it. The user will then inhale the vapor via the mouthpiece. This is what a typical process of vaping CBD oil involves.
There are two styles of vaping CBD. The pen style involves CBD concentrates. There is a chamber that contains a coil that's used to heat the oil till it vaporizes. The CBD supplement must be placed on the coils directly for vaporization to occur. One problem of using vape pen is that the coils require periodic replacement because they usually burn out.
Tank –Style vaping is associated with billowing smoke clouds. It usually requires an e-liquid. This style involves a mixture of vegetable glycerine, CBD hemp oil, propylene glycol, and flavorings. Tank vapes usually have heating coils that are wrapped with nylon, silica wick, or cotton that absorbs your e-liquid to the coils. Note that a tank can either be refillable or disposable.
The Benefits of Vaping CBD
CBD hemp oil can be taken in various ways but vaping has a lot of benefits. The marijuana industry is witnessing enormous growth because of the numerous benefits of CBD. There are scientific studies which indicate that this oil can be used to treat physical as well as mental illnesses which includes chronic depression, insomnia, anxiety, epilepsy, inflammation etc.  But why are many people turning to vaping CBD oil?
Fast Absorption
Vaping CBD provides immediate relief. Unlike other forms of CBD oil, this mode of intake has a faster rate of absorption. Instead of going through the digestive system and the liver, CBD is absorbed from the lung linings directly into the bloodstream. This means that its medicinal benefits can be felt in an instant.  For those who suffer from flaring pains, stress and anxiety attacks, the fast absorption rate makes vaping the most favorable mode.
Higher Level of Purity
Most of CBD products are usually formulated with additional ingredients to provide better health benefits. However, some people simply need pure CBD. Vaping oils have the purest form of CBD and most of them contain 100 percent of CBD extract. However, propylene glycol, vegetable glycerin, and flavoring may be added. Overall, the benefits of this mode of CBD intake is that the CBD compound is very strong and powerful thanks to the few added ingredients. Compared to other CBD products, the vape oil doesn't have chemical additives and nicotine.
Customized Dosing
Vaping CBD Hemp oil comes with customized dosing. It allows you to personally decide on the amount of CBD oil that you want to inhale. This means that you can purchase the vape oil depending on the level of potency you need from a bottle with 25mg to 4,000mg. If you want to vape CBD oil for a calming effect then you'll purchase a smaller dose. People who use CBD oil to treat severe medical conditions will need a dose that's strong and with high potency.  You can also vary the dose depending on the effect that you want to experience during the day.
Calming Effect
Some people consume CBD because of its calming effect. And the most relaxing way of taking this compound is via vaping. The pleasant and soft clouds which gentle go through your breath help to promote the feeling of calmness. Additionally, the various flavors, smell as well as taste make it enjoyable. You can take some few puffs during the day to counter stress or before bed in order to get a relaxed night of sleep.
Vaping and Allergies
There is a small percentage of users who are allergic to the materials and chemicals that are found in vapes. According to studies, there are negligible metals as well as other contaminants like cadmium and lead which are highly dangerous. Before you begin vaping, it's very important to be aware of the equipment and the vaping oils. This will help you to avoid the risks that are associated with contaminants and allergens that comes with Vaping oils.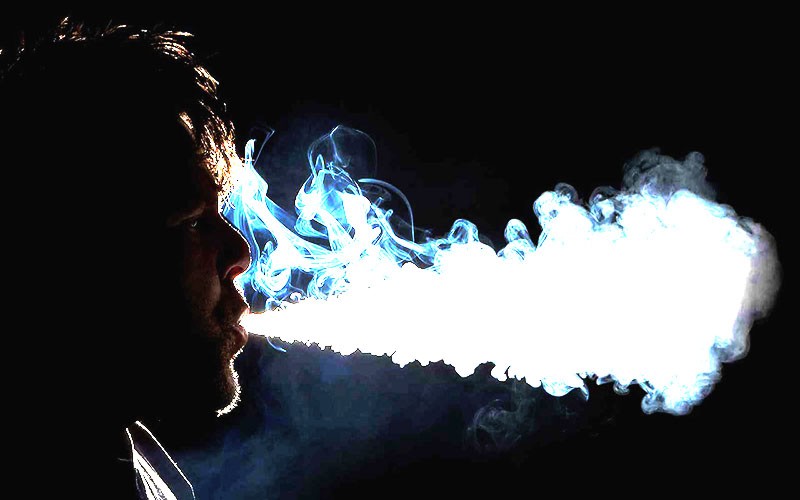 The Best CBD Vape-Oil
It appears that CBD vape oil is now popping everywhere. You can find it in a vape or smoke shop. However, there are numerous CBD vape oils that are being sold hence it's difficult to know which products are legit. If you are looking for a high-quality product that will give you value for your money, below are some of the Best CBD Vape oil products.
Hemp Bombs
This brand makes unique CBD vape oil for sale.  Hemp Bombs usually have great taste and they are very affordable. This CBD vape juice comes in 10 different types of flavors which include vanilla cupcake, chocolate donut, and watermelon among others. Note that Hemp Bombs are formulated using cannabidiol isolate hence they don't have any bitter aftertaste.  Additionally, they also don't have THC traces.
CBDfx Vape Juice
The CBDfx brand is popular with manufacturing high-quality CBD vape oils that have sweet flavors'. The Vape Juice is a premixed CBD oil that is available in flavors like Strawberry Milk, Strawberry Kiwi, Blue Raspberry etc. Vape Juice is made using high-quality of cannabidiol isolate and its available in containers of 100 mg, 500 mg and 250 mg.
CBD Drip
This vape oil can be taken through vaping and it can also be taken in a sublingual way. CBD Drip uses a full-spectrum cannabidiol. This means that it's extracted from raw hemp instead of the CBD isolate. CBD Drip is very strong and its effects are usually felt instantly.
Will CBD Vape-Oil Get You High?
Most people usually wonder if vaping CBD oil will get them high. The truth is that it won't. A wide variety of CBD vape oil for sale are made from the CBD isolate and they lack THC. There are others that are derived from raw hemp though they might contain trace amounts of THC. Regardless of how they are made, CBD Vape Oils should have a 0.3 percent legal limit of THC. Note that this percentage is still very small and can't produce any psychoactive effects. Note that CBD vape juice should not be confused with CBD vape cartridge and cannabis vape oil all of which have THC.
CBD Vape-Oil Dosage
A common question that most people often ask themselves is – "how much CBD should I vape?" well there are a number of factors which are important in determining the right CBD vape oil dose. They include weight, age, tolerance as well as your symptoms (if you're using it for medical purposes). Note that different medical conditions need different levels of doses. For instance, if you have seizures, you will require a higher dose of CBD vape oil. Someone who is suffering from nausea will only need a smaller dose. Apart from that, the frequency of use is also crucial, in case you don't use it frequently, then you might need a dose with higher strength for compensation.
Typical Strength of Vaping CBD Oil
< 200mg : Low
200mg -500mg: Medium
500 mg – 100 mg: High
2000 mg – 4000 mg: Very high
Final Thoughts
When you are vaping a CBD oil, only use a vape juice that's designed for vaping. Avoid using an oral tincture that's Oil-based. Vaping requires that you have a device such as CBD vape pen, pod vape, tank, or weed pen. Although vaping is great thanks to its instant effects when it comes to providing pain relief, it should be used with caution. This is because a CBD vape juice can cause a dry mouth, dizziness and sometimes drowsiness. Always drink water before, during, and after vaping so as to counter these side effects.