Green Roads CBD is based in Florida and among the pioneers in the CBD industry. Subsequently, this top brand is said to have set the standard for quality, transparency, and service excellence in the unregulated CBD industry. With this Green Roads CBD Review, we will evaluate the transparency of the production processes and authenticity of the accolades this award-winning brand continues to receive.
About the Brand
Green Roads CBD, is a leading CBD brand in the market, offering premium quality CBD products formulated by a team of experienced pharmacists. The company was started in 2011 by licensed Compound Pharmacist Laura Baldwin Fuentes and her friend and businessman, Arby Barroso. Laura, who is also the CEO, regards every customer as a 'patient' and not just a customer. Moreover, she drives the brand's unique CBD formulations and quality management processes.
In Alby Barroso's words, "We set the gold standard for self-regulation", in the fastest growing industry in the world. It is these values and high standards that won them the award for "Best CBD Products" for two consecutive years (2018 and 2019) at the prestigious Cannabis Business Awards.
Known throughout the US and abroad for producing the best CBD oil, Green Roads has also expanded its products to countries outside of the US. In addition, their customers can obtain their favorite CBD products from 10,000 locations worldwide.
Green Roads CBD Company Highlights
In our Green Roads CBD review, we found the comprehensive beginners' guide very informative and educational. It carefully explains how CBD works in the body, the CBD extraction types, the entourage effect, dosage, and the various CBD oil products. New customers will be able to make an informed buying decision.
Green Roads sources premium quality, Non-GMO hemp from registered hemp farms in Colorado and Kentucky where it grows in organic, pesticide-free, nutrient-rich soil.
The brand opts for the expensive Supercritical CO2 Extraction method and their CBD products undergo 3rd party testing at various stages of production to test for heavy metals and other contaminants. We found all the certificates of analysis updated on the brand's website to assure their customers that they are receiving the safest and best CBD oil in the market.
The brand offers full-spectrum, broad-spectrum, and isolate extract types in their CBD formulations. They display the QR code on all its product packaging to make it easy for customers to access the lab analysis reports on the company's website.
Green Roads CBD also cares about the communities. The brand has established various community outreach projects and social responsibility programs in the US. This includes product discounts for veterans, front-line workers, and lower-income groups.
My Personal Experience with Green Roads
One of the key aspects of this Green Roads CBD Review was to test some of the products for purity, potency, efficacy, and taste. Hence, we ordered 5 products for sampling.
My first option was to try the moderate (750mg) full-spectrum CBD oil (providing the entourage effect) for my shoulder rotator cuff injury. Customers laud this mid-strength oil as the best CBD oil for effective relief from a variety of health issues. It comes in a 30ml bottle in a smooth natural flavor, CBD potency of 25mg/1ml, at a competitive price of $89.99
The CBD muscle and joint cream in the topical range was to alleviate sharp, stabbing pains in my shoulder during daily activities. The cream is THC-free and has added ingredients such as menthol, vitamin E, and chamomile for a calming effect. It comes in 50mg travel size and 150 mg at $11.99 and $24.99 respectively.
To help with my disorderly sleeping patterns I ordered the 50mg CBD Sleepy Z's. Each broad-spectrum flavored gummy contains 25mg CBD and 0.5mg melatonin. It comes in a bag containing 2 gummies, at $9.49.
I also ordered the Relax Bears CBD gummies, offering a dose of 10mg CBD per serving at$44 per bottle.  Well, it tastes so great one almost forgets the reasons for buying it.
At the outset, I had my silent reservations about my newly purchased Green Roads CBD products. However, after one week, my shoulder was more mobile, and a definite decrease in the pain level.  CBD oil and cream seem to produce faster results when used together.
Above all, what was most noteworthy was how relaxed and calm I felt. In addition, for the first time I slept a full 6-8 hours without waking up at the slightest stir. I was certainly impressed with the quality, taste, and impact of the products that I have sampled.

Pros
Choice of full-spectrum, broad-spectrum, and isolate CBD oil formulations.
CBD oil and hemp seed oil are blended to improve the oils' overall impact.
The products are safe as it goes through multiple laboratory testing processes
A team of pharmacists researches and formulate the CBD products.
The vast product range also includes CBD for pets.
Cons
Full-spectrum CBD oil doesn't have a choice of flavors
Not all the ingredients are specified on the product labels
Gummies and froggies contain corn syrup and sugar.
Popular Products Offered by Green Roads
In our comprehensive Green Roads CBD Review, we established that planning, product development, and quality management, forms the cornerstone of the brand's success.  From the best CBD oil to relaxing gummies, capsules, topicals, luxury bath bombs, or looking after your pet's health, it's all covered! There is bound to be a CBD product for everyone.
However, the brand remains on the cutting-edge of technology and innovations so their product range expands and evolves continuously. Fortunately, the brand updates its website and adds new flavor and variations on a regularly on their products, for easier understanding we found the following categories are what you should really consider when buying from Green Roads.
CBD Oil
Edible CBD Gummies
Green Roads CBD Topicals
CBD Capsules & Softgels
Green Roads Pet CBD Drops
Bundle Packs
Green Roads: CBD Hemp Oils
Green Roads CBD is not a complacent company when it comes to enhancing the efficacy and quality of their CBD oil product range. Above all, the team of pharmacists led by Ms. Baldwin Fuentes has worked hard on improving their CBD oil line to enhance its taste and overall quality and offering. As a result of their ground-breaking scientific research, they came up with an exciting new 'on the go' 1000mg CBD hemp oil offering an exact daily dose of CBD.
Green Roads CBD produce the following CBD oils: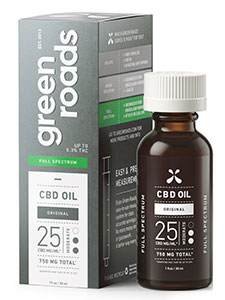 Full Spectrum CBD Oil
This extraction method ensures that the valuable health-building cannabinoids that are naturally present in the hemp plant includes a minuscule amount of THC (less than 0.03%).
In a ground-breaking discovery in the mid-1990s, scientists concluded that a minuscule amount of THC together with the other cannabinoids and CBD contributes more effectively to what they termed 'the entourage effect'.
This means that CBD and all cannabinoids work together more efficiently at building health than CBD alone.
The full-spectrum comes in three strengths:
Mild (300mg/30ml)
Moderate (750mg/30ml)
Mighty (1500mg/30ml)
The oil has only one flavor available unlike the broad spectrum cbd oil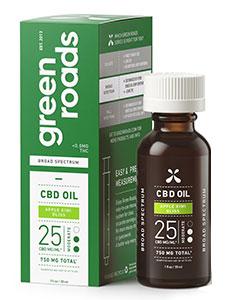 Broad-Spectrum CBD Oil
This CBD oil range uniquely formulated and contains superior quality CBD and all cannabinoids but excludes THC (contains zero THC). Green Roads formulate and test this popular CBD oil product in their laboratory that is registered with the FDA (US Food and Drug Administration) . Their facility also carries the CGMP-certification for adhering to strict CGMP regulations. The broad-spectrum formulation contains therapeutic hemp seed oil and other natural ingredients for greater efficacy. MCT oil acts as a carrier base, which activates the CBD for faster and more effective support.
The Broad spectrum oil also comes in three strengths:
Mild (10mg/ml)
Moderate (25mg/ml)
Mighty 50mg/ml).
The oil also comes in following flavors: Mint Breeze; Apple Kiwi Bliss; Original flavor.
Use your Green Roads Coupon code (INSIDER) to get 20% off all CBD oils in July 2020
Green Roads: CBD Topicals
Green Roads CBD, thanks to its team of pharmacists led by CEO/Pharmacist Laura Baldwin Fuentes, offers an impressive range of CBD topical products. Under the brand's transparency policy, customers can scan the QR code into the brand's website and view the laboratory reports that pertain to each CBD product.
Consequently, with this Green Roads CBD review, we will delve deeper into the most popular topicals for your convenience. The brand's CBD topicals contain therapeutic-grade organic botanical oils like lavender, avocado oil, cucumber, Vitamin E as well as other natural ingredients. Importantly, these topicals  offer a great way of experiencing instant relief, whether it's a sudden skin rash or aching joints and limbs, it's magic!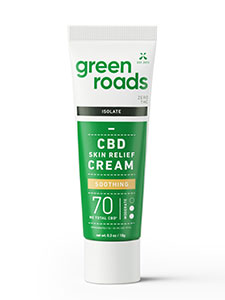 CBD Skin Relief Cream
The stresses of daily living can be harsh on your skin but help is at hand.  The broad spectrum and isolate travel size skin relief cream, have you covered in all eventualities!
Broad-spectrum –Travel size:
comes in strengths of 200mg CBD per bottle @ $39.99.
Your skin will love Lavender, Vitamin E, Avocado oil, and the amazing mineral-rich Bentonite clay, as these super botanicals add to a healthy, glowing skin!
Isolate (0% THC) –Travel Size:
Comes in strengths of 70mg CBD per bottle @ #12.99.
This blend of cream contains no THC. For sensitive, red, and itchy skins, apply 4-6 times a day.
Muscle and Joint Cream
This pleasant –smelling cream provides rapid relief from muscle and joint aches and pains from over-working muscles at the gym, sitting too long in one place, etc. The pure CBD extract has the added benefit of natural botanicals that provides a soothing and calming effect.
Isolate (0% THC)
comes in strengths of 350mg CBD per 30ml bottle @ $44.99.
Convenient pump application to apply the exact amount of cream where needed.
comes in strengths of 150mg per 30ml bottle @ $24.99.
Note: Always close the lid tightly and store in a cool, dry area, 68F to 77F (20C to 25C)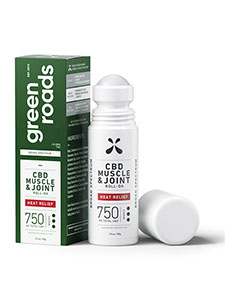 Green Roads CBD Heat Relief Roll-On
This muscle and joint formulation combine Broad-spectrum CBD extracts (0% THC), with the warming elements found in certain red peppers like Cayenne to provide a comforting, warming sensation. The addition of natural, organic botanicals like Avocado and Rosemarie oils, and Bentonite Clay, adds an amazingly soothing, calming effect on joints and muscles.
150mg Roll-on:  offers a mild formulation of 150mg CBD @ $29.99
350mg Roll-on: offers a moderate formulation of 350mg CBD at $54.99.
750 mg Roll-on: New product! Quick –action formula containing 750mg CBD @ 69.99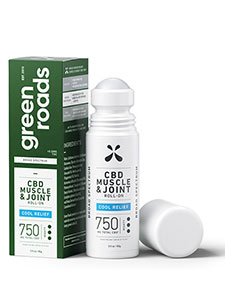 Green Roads Cool Relief Roll-On
This formula combines the healing power of broad-spectrum CBD (0% THC), and the cooling effects of Menthol, an ancient remedy for weary, aching limbs and joints.
150mg roll-on: offers a mild formulation of 150mg CBD and cooling Menthol @ 29.99.
350mg Roll-on: a moderate formulation of 350mg CBD with the heat action of Cayenne peppers and cooling Menthol @ 54.99.
Use your Green Roads Coupon code (THANKS) to get 10% off CBD Topicals
Green Roads: CBD Edibles
In our Green Roads CBD Review, the CBD edibles literally 'took the cake' for innovation, taste and health benefits, all wrapped in one! The flavorful CBD gummies leave a sweet/sour explosion on your taste buds and packed with sufficient CBD for a calm, relaxed feeling.
The Sleepy Zs gummies contain melatonin to induce sound sleep. CBD-infused gourmet dark chocolate offers all the feel-good benefits of cacao but has the added therapeutic health benefits of hemp-derived CBD.  It is hard to believe that all this mouth-watering decadence is building your health.
The CBD is slowly released throughout your body's systems over an extended period. This means you derive the therapeutic benefits for much longer.
Relax Bear Gummies
Contains 300mg CBD isolate (100% CBD only) per bag of 30 gummies.
It offers a variety of flavors in delicious sweet/sour chews, with each gummy delivering 10mg of CBD @ $43.99 per bag.
Sleepy Z's Gummies
offers 50mg broad-spectrum CBD combined with melatonin in a mildly-flavored gummy chew.
It comes in a bag of 2 gummies, each infused with 25mg CBD and 0.5mg melatonin @ $9.49/pkt.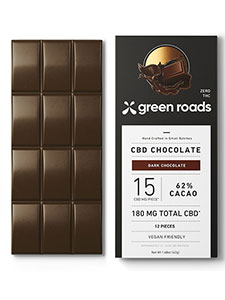 Artisanal Gourmet Dark Chocolate
Combines CBD isolate (100% CBD only) and 62% vegan-friendly, fairly-traded Cacao.
Each slab contains a total of 180mg CBD and offers 15mg/piece of gorgeous chocolate @ $24.99 per slab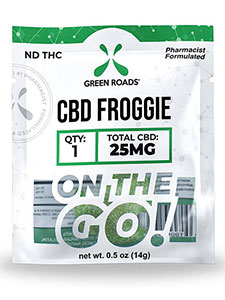 Green Roads Froggies
Another creative way devised by the Green Roads CBD  team of pharmacists to provide your daily dose of Broad-spectrum CBD for stress and pain relief. This is for busy professionals and people on the go! (froggies contain corn syrup and sugar).
25mg On-the-go :  Contains 1 x 25mg CBD-infused, sweet-sour froggy @ $4.75.
50mg On the go: Contains 1 x 50mg CBD-infused, sweet-sour froggy @ $6.49.
100mg for Stress & Pain:  A pkt contains 4 froggies, each packed with 25mg CBD @ $15.99/pkt.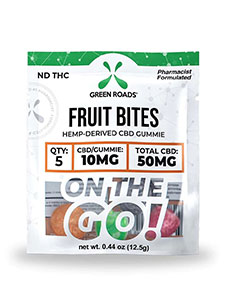 Green Roads Fruit Bites
Provides a total of 50mg of CBD per packet of 5 fruit bites in juicy flavors.
Each fruit bite offers 10mg of CBD @ $6.49/pkt for people with busy lives not to miss out on their daily dose of CBD.
Use your Green Roads Coupon Code (HAPPY15) to Get 15% off all CBD Edibles
Green Roads CBD:  Capsules and Soft gels
Green Roads CBD offers a complete range of CBD Isolate (THC-free) capsules and soft gels, as many people can relate to this form of taking their medications. For those who don't particularly like the taste of hemp, this is an easier option. These products do not contain soy, gluten, or sugar.
The capsules and soft gel range includes vegan-friendly capsules. The Relax capsules contain GABA (mood stabilizer and pain relief amino acid), and 5-HTP (an amino acid that helps to produce serotonin a 'feel-good' chemical). You also get CBD sleep capsules containing melatonin for a good night's rest and sleep. (Note: While the brand's capsules are vegan-friendly, the soft gels are not).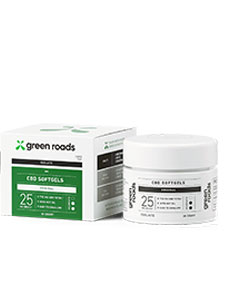 CBD Softgels
The CBD soft gels contain a unique blend of CBD isolate, gelatin, MCT oil, water, and hemp seed oil. You get 30 soft gel capsules per 750mg bottle, and each capsule contains 25mg of CBD isolate @ $49.99. (The pharmacists recommend taking one soft gel per day to maintain your daily wellness routine).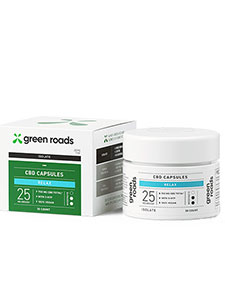 CBD Relax Capsules
Living up to its standard as one of the best CBD brands of the cbd industry, Green Roads leads its way with this pharmaceutical formulated Relax capsules. The capsules offer fast relief for stress, overall tension and it promotes a sense of peace and calm.
The formulation includes CBD isolate, combined with GABA and 5-HTP. These two naturally occurring amino acids provide optimal support to reduce stress levels, promote relaxation, and uplift the mood by activating the feel-good chemical (serotonin) in the brain.
The Relax capsules come in strengths of 750mg per bottle with 30 vegan capsules.
Each capsule contains 25mg CBD isolate @ $49.99 per bottle.
(The pharmacists recommend taking one capsule per day to restore balance and a sense of calm and holistic wellness).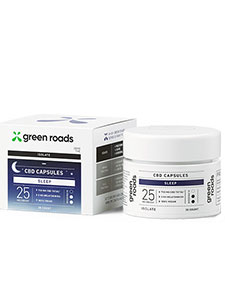 CBD Sleep Capsules (vegan)
These capsules, as the name signifies, enhance healthy sleeping patterns. The innovative combination of CBD isolate and melatonin helps your body to become calm and relaxed which promotes deep sleep.
The CBD sleep capsules come in strengths of 750mg per bottle of 30 capsules, with each capsule containing 25mg CBD isolate and 5mg Melatonin. The price is $49.99/bottle.
(The pharmacists recommend taking 1 capsule 30 min before bed to promote restful sleep).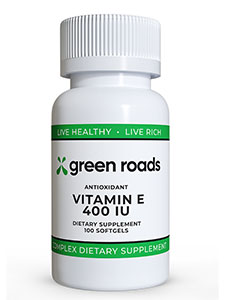 Vitamin E Softgels
The excellent antioxidant qualities of Vitamin E support your overall health in various ways. This amazing vitamin comprises a group of fat-soluble vitamins with antioxidant qualities.
The Vitamin E Softgels come in strengths of 400IU with 100 soft gels per bottle @ $8.99.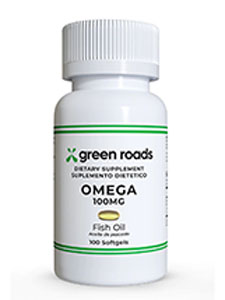 Fish Oil (Omega 3)
Fish oil is rich in essential Omega 3 fatty acids. (our bodies do not produce these fatty acids hence we must add it into our diet). The health benefits of Omega 3 fatty acids are innumerable in supporting the body's physiological systems to maintain holistic health.
Fish oil comes in strengths of 100mg per bottle with 100 soft gels @ $12.99/bottle. (Both Fish oil and Vitamin E were out of stock at the time which means these are fast-sellers).
Use your Green Roads Coupon Code (WELCOME12) and get 12% off your order of CBD Capsules.
Green Roads CBD: Pets
Green Roads CBD instills the same care that goes into their award-winning products, into the formulation of their CBD drops for pets. Importantly, these products contain no ingredients such as soy, corn, or dairy that is harmful to your pets. An independent laboratory rigorously tests all pet CBD products. The company regularly uploads the product analysis reports on its website, linked to the QR code on the product labels.
Stress plays a major role in behavioral issues in pets. Dogs and cats do not take kindly to loud noises like fireworks, thunder, strange guests, or moving house, etc.  Senior pets also need more support for arthritic joints and stress-related health problems.
The reason that pets respond well to CBD oil, is because they share the same endocannabinoid system with humans and vertebrates. This system plays a regulating role to restore the balance in our bodies.
In other words, the same neuroreceptors that respond to the cannabinoids in CBD are at work in your pet's body to restore the balance and overall health via the endocannabinoid system.
As a brand renowned for the best CBD oil formulations, Green Roads CBD oil drops for pets certainly attain to the same high standards as all the brand's award-winning CBD products.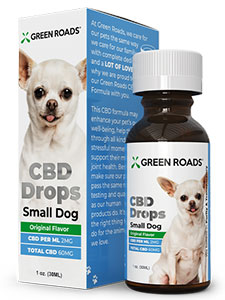 CBD Oil Drops for Dogs
The broad-spectrum CBD oil drops for dogs contain a unique blend of hemp-derived CBD, hemp seed oil, and organic MCT oil base. All ingredients are compatible with your dog's digestive system and contain no soy, dairy, or corn. The CBD drops contain 0% THC and have a mild taste that should be palatable to all dogs. Each bottle includes an accurate measuring system.
CBD Oil Drops for Small Dogs (under 15 pounds)
The CBD oil drops come in a potency of 60mg/30ml bottle with 2mg CBD contained in every 1ml of the oil. The price is $19.99 per bottle.
CBD Oil Drops for Medium Dogs (between 15-50 pounds)
The CBD oil drops come in potencies of 210mg/30ml bottle. Every 1ml serving of oil delivers 7mg CBD to build your dog's health. The price is $39.99 per bottle.
CBD Oil Drops for Large Dogs (over 50 pounds)
The CBD oil drops for large dogs come in strengths of 600mg/30ml bottle, with CBD potency of 20mg/ml @ $59.99/bottle. This strength is among the best CBD oil drops for larger-sized dog breeds. It is an excellent source of overall health and joint support for your best friend.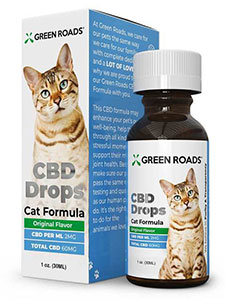 CBD Oil Drops for Cats
Cats, like dogs, are traumatized by various things like thunderstorms, fireworks, strange guests, and new pets. For cats, visiting the vet is particularly stressful as they most often need to be taken in a pet cage. Senior cats also require extra support to maintain joint health.
The broad-spectrum CBD oil drops for cats contain a blend of hemp-derived CBD oil, hemp seed, and MCT oils. These are ingredients that your cat can easily digest. The CBD oil drops for cats come in a 60mg/30ml bottle. Each ml contains 2mg of CBD @ $19.99/bottle. This is the best investment in your cat's health and its overall contentedness.
Use your Green Roads Coupon Code (CBDFORME) to get a 15% discount store-wide on CBD products for yourself or your pets.
Green Roads: Hemp Flower Gourmet Coffee & Tea
In our Green Roads CBD Review, this was one of the most amazing experiences we have had, when pure science meets pure indulgence! The brand won the 'Most Innovative Product' for its CBD Coffee blend at the Cannabis 2018/2019 Awards. Together with their super-relaxing CBD tea blend, Green Roads CBD seems hard to beat when it comes to new product development and expanding their product lines.
Life doesn't get much better than being able to have the best brew of rich, CBD-infused Colombian coffee to set you up for a busy day.  Similarly, ending the day with a delicious calming cup of CBD-infused Chamomile and Peppermint tea is a great way set you up for a good night's rest and sound sleep.
Green Roads CBD sources coffee-beans that grow in organic, fertile, nutrient-rich soil on the peaks of Columbia. Citrus, bananas, and cacao also flourish on these lush peaks. Experts harvest the coffee beans according to scientifically -proven methods so that it yields a rich, superior end product.
Green Roads CBD Tea is the brain-child of the CEO and leading pharmacist Laura Baldwin-Fuentes. Blending pure CBD with premium-grade chamomile, peppermint, and vanilla, she perfected the bed-time cup of tea. This ingenious combination of botanicals combined with American hemp flowers calms the mind and body and induces overall relaxation and wellbeing.
The coffee and tea are produced in small batches and contains a unique combination of cannabinoids. Independent laboratories test these products for purity during the production stages. The final products contain the QR code on the packaging so that customers can access the laboratory analysis report on the brand's website.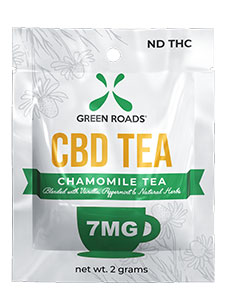 CBD, Chamomile, Vanilla, and Peppermint Tea
This broad-spectrum calming and relaxing tea comes in a single-day, 7mg sealed bag and contains approximately 7mg of CBD @ $2.99 per bag.
To enjoy this delicious night-time beverage, simply steep the bag in boiling water for 5-7 minutes and indulge your senses!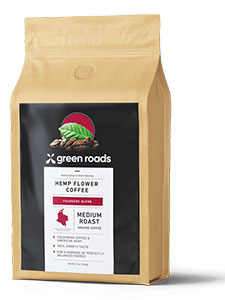 Hemp Flower Colombian Coffee Blend
This award-winning broad-spectrum US hemp flower and rich Colombian coffee blend come in three gourmet flavors; Hazelnut, French-Vanilla, and Founder's blend (or house-blend).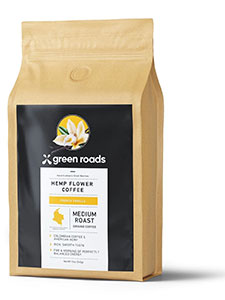 French Vanilla Colombian Coffee Blend
A smooth, calming blend of broad-spectrum hemp and rich, Colombian coffee beans, comes in a 12oz bag with approximately 22mg CBD per serving (1 cup),@ $44.99/bag.
Introductory size (2.5oz): You can also buy the 2.5oz bag, containing approximately 22mg of CBD per serving (1 cup), @ $14.99/bag.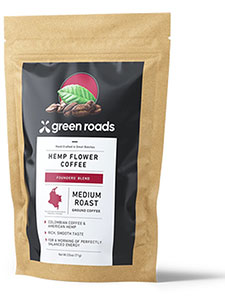 Founders' Blend Hemp Flower Coffee
The Founders' blend of this gourmet Colombian coffee has a rich, full flavor, with distinct hints of chocolate, caramel, and nuts, blended with broad-spectrum hemp flowers. The 12oz bag delivers approximately 9.67mg CBD per serving @ $44.99/bag.
Introductory size, ( 2.5oz)  is available, delivering 9.67mg CBD per serving (1 cup),@ $14.99/bag.
Recommended use: 2 level tablespoons of coffee for every 6oz of water, or according to your preference. For the best quality brew, it is best to use ice-cold, purified water to boost the rich flavor of the coffee.
Use your Green Roads Coupon Code (BXGRO10-QADU2VZ) to get 10% off CBD gourmet Coffee and Tea.
Green Roads CBD: Indulgence Line
If indulging your senses in gourmet coffee is not your thing and you would rather prefer 'champagne', you've come to the right place. Relaxing your body and mind in a luxury bath that explodes with exotic and enchanting fragrances, is the 'champagne' of life's little indulgences!
Once again, the team of pharmacists at Green Roads CBD has outdone themselves by combining organic hemp-derived CBD with fragrant, organic botanicals. The luxury bath bombs, infused with CBD and the aromatic scents of nature's healing botanicals, have a gentle foaming action. It comes packaged in a single large size and also two smaller-sized bath bombs.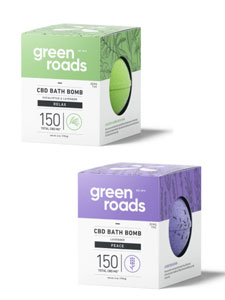 The Large CBD Bath Bombs
The large bath bombs contain approximately 150mg CBD isolate per bomb, which is about 50% more than in the smaller duo packs. The healing properties of CBD and the therapeutic qualities of aromatic botanicals are a perfect combination to spoil yourself (or a loved one) with the ultimate relaxation experience.
The Large Bath Bombs contains 150mg CBD @ $17.99 each, come in the following combinations:
Peace (Lavender)
Refresh (Peppermint & Lemon)
Relax (Eucalyptus & Lavender)
Unwind (Ylang Ylang)
Uplift (Orange, Lavender & Lemon)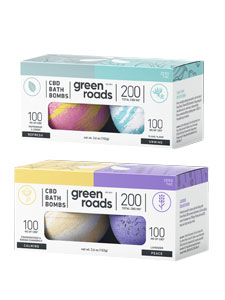 The Dual Packs of Small Bath Bombs
The dual pack of bath bombs contains a total of 200mg CBD isolate, with each bath bomb containing 100mg CBD per unit. The price is $19.99 per pack of two. They come in the following soothing, relaxing, and uplifting fragrant combinations:
Peace & Calming CBD Bath Bomb Duo: Experience the tranquillity of Roman Chamomile or relaxing effects of Lavender or use both for the best experience.
Refresh & Unwind CBD Bath Bomb Duo: Contains mood-enhancing Ylang Ylang tree oil or indulge the refreshing Peppermint Lemon.
Uplift & Relax Bath Bomb Duo: Orange, Lemon, Lavender to transport your senses or experience the soothing aromatherapy of Eucalyptus and Lavender.
Directions for use: Simply Unwrap your exotic bath bomb and gently drop it into a tub prepared with warm water to your preference and allow your senses, body, and mind to indulge this pure luxury.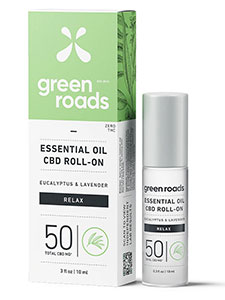 CBD Essential Oil Roll-Ons
Some of nature's best aromatic essential botanical oils, blended with CBD isolate, offer 'on the go' wellness in a convenient roll-on bottle. You can apply the CBD –infused oils to your wrists, behind your ears, temples, and breathe in the soothing fragrances of nature.
These pharmacist-formulated CBD-essential oil/CBD isolate combinations contain 50mg CBD per roll-on bottle @ $24.99/bottle (0.03fl oz.)
Peace Essential Oil Roll-On: A peaceful blend of CBD isolate and Lavender is an essential addition to your wellness routine.
Refresh Peppermint and Lemon: A refreshing blend of CBD isolates with Peppermint and Lemon to invigorate your senses.
Relax Eucalyptus and Lavender: When life gets too stressed, a quick touch behind the ears provide deep relaxation.
Use your Green Roads coupon Code (MYBARGAINBUDDY20) to get 20% off all your CBD needs.
Green Roads Hand Sanitizer
Green Roads CBD went the extra mile to ensure that the Spray-on hand sanitizer strictly adheres to FDA standards and guidance. In addition, the practical, travel-size spray bottle is meant for sanitizing your hands while on the go in these critical times.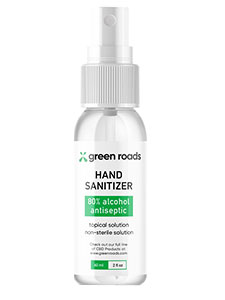 The 2oz travel- size spray bottle is perfect to prevent germs, bacteria, and disease from spreading. It contains 80% alcohol and contains no CBD.
The Hand Sanitizer comes in a dual-pack of 2oz spray bottles @ $8.99 per pack.
Recommended Use: spray enough sanitizer on your hands to cover all surfaces. Rub well into your hands and between the fingers for a few seconds. Children under 6yrs should be supervised as they may swallow some by accident. Keep the spray nozzle away from eyes, ears, and mouth.
Use Green Roads Coupon code: Enter HANDS at checkout to get 2-pack hand sanitizer free with an order of over $75.00
Summary
When we embarked on this Green Roads CBD Review, we were expecting to find some exaggerations about the quality of the brand's CBD products. However, our personal experience in sampling a few products and checking the QR codes against the laboratory analysis reports reassured us of this top brand's ethical and transparent production processes.
As a pioneer in the CBD industry, the brand sets a high standard of transparency, ethical production processes, and love for humanity and the environment. The most outstanding feature is the CEO/Pharmacist Laura Baldwin Fuentes and her team's commitment to the on-going development of new products and expanding their CBD lines.
In conclusion, we laud Green Roads CBD for their boldness and courage to constantly explore the CBD landscape for new, innovative ways to enhance the appeal and healing effects of CBD. This augurs well for healthy competition and growth in the CBD industry.