If you are one of the countless people who are considering Cannabidiol (CBD) oil supplementation, then you probably know how hard it can be to choose a product. There are countless CBD oil companies out there and finding the "best" one can be a pretty daunting task.
CBD oil reviews are seemingly boundless, with people claiming loyalty to quite a few different companies. If you are going to be using CBD oil for pain, inflammation, insomnia, anxiety, or anything else, then you, of course, want a quality product from a trustworthy company. You also don't want to spend too much money.
Here, you can get an honest NuLeaf Naturals review to determine if their CBD products might be the right ones for you. So, without further ado, let's dig right in…
About NuLeaf Naturals CBD Oil
NuLeaf Naturals offers high quality of 100% organic hemp CBD oil tinctures. They were founded in 2014 and are touted as one of the United State's top pioneering hemp companies. They engage in third-party lab testing, which we will get into more in-depth later in this review.
NuLeaf Naturals utilizes organic and sustainable farming practices for growing all of their plant products. One difference between NuLeaf and others is that they provide one of the best CBD oils comparing to other brands in the CBD industry. which is why this review will heavily be focused on their CBD hemp oil tinctures.
Nuleaf Naturals Products: Full Spectrum CBD Oil
NuLeaf Naturals CBD is mixed with USDA certified organic hemp oil, as well as a full spectrum hemp extract. They tout totally natural and raw products that are free of preservatives and additives.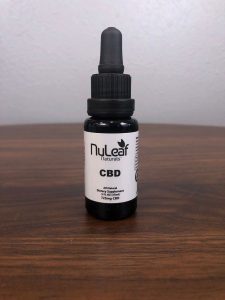 NuLeaf offers several options for sizes, as well as CBD oil for dogs and other pets (like cats, rabbits, and more). Their CBD oil tinctures contain 30mg cannabinoids per servings. NuLeaf recommends taking the drops sublingually (under the tongue).
They also use a CO2 extraction method in order to extract CBD from their organic hemp plants. This method does not utilize heat nor solvents, protecting the integrity and entire spectrum of cannabinoids during the extraction process. There are no artificial flavors or additives in NuLeaf CBD oil. It has an earthy and leafy taste that can even be quite tart. This is the sign of a strong and potent CBD oil.
Sizes and Prices
The sizes and prices (for single bottles) are as follows, respectively:
300mg Full Spectrum CBD Oil – High-Grade Hemp Extract
Price: $29.99
900mg Full Spectrum CBD Oil – High-Grade Hemp Extract
Price: $79.00
1800mg Full Spectrum CBD Oil – High-Grade Hemp Extract
Price: $149
3000mg Full Spectrum CBD Oil – High-Grade Hemp Extract
Price: $199
6000mg Full Spectrum CBD Oil – High-Grade Hemp Extract
Price: $399
NuLeaf Naturals CBD Oil Benefits
What are NuLeaf Naturals used to treat? NuLeaf Naturals is used by many people for a variety of reasons. Some of the most common uses for CBD oil are:
Acute or chronic pain and inflammation
Anxiety, depression, stress, and other mood issues
Insomnia and other sleep-related issues
Appetite and other eating and digestive issues
And much more
Many people use CBD oil to relax and just take a load off. Many users claim it helps to ease tension and mild pains from day to day life, helping them to sleep better and just feel better overall.
What You Need to Know About This CBD Oil
Like any other CBD oil for sale online, NuLeaf CBD oil is an over the counter dietary supplement. It is not intended to treat or cure any disease or condition. While there are many well known medical benefits of CBD oil, you should still talk with your doctor. Have regular checkups, and if you think anything is wrong, schedule an appointment.
Your doctor should be a part of your decision to start a CBD oil regimen, regardless of your reasons for use. Everyone can and should be smart about choices regarding health and well being. It's not worth putting off a doctor visit if anything is off.
NuLeaf Naturals Full-Spectrum Pet CBD Oil
NuLeaf Naturals also makes a CBD tincture just for your special family members. CBD oil for dogs and other pets should be used with care. You should, of course, consult your veterinarian when using CBD for pets. Make sure you and a professional are monitoring any conditions your pet has, their progress, as well as any side effects. Start dosing small and pay attention to your pal.
Materials, Sourcing, and Testing
NuLeaf Naturals products undergo third-party lab testing. This means that it is sent out to an independent laboratory to test for ingredients and purity. You can get reports on third party testing by contacting NuLeaf directly.
Flavor and Appearance
The flavor of NuLeaf oils is potent and strong. It is earthy and leafy. This is how you know it is a powerful full-spectrum oil.
Pros
There are many pros to this product. It is all-natural and organic, using only raw products directly from the hemp plant. It can be used to help tackle a variety of conditions and users give it great reviews.
Another pro is that you can save some serious money by buying in bulk.
Cons
As briefly mentioned earlier in this NuLeaf Naturals review, their CBD oil tinctures do not contain any additives or flavors. For this reason, some complain that the taste is too potent and leafy. While many would consider this a benefit of CBD oil, some do not prefer the CBD taste.
There are, however, ways to work around the flavor issue. There are all kinds of CBD oil recipes all over the internet. You can mix your CBD tincture into drinks, sauces, dressings, soups, and so much more. You can bake with it or incorporate it into just about any recipe if you get creative. The other cons are that the price is a bit high.
Final thoughts
Now you know a bit more about NuLeaf Naturals full-spectrum CBD oils. Hopefully, this NuLeaf Naturals review has helped you a bit in your decision about what CBD oil you are wanting to purchase. And remember, always talk with your doctor about any new supplement regimen or major lifestyle change. Good luck on your CBD journey!