With so many different brands offering CBD oil out there, you may be confused on which brand's oil is truly the most potent. If you want the fastest, most noticeable relief from your CBD oil, seeking out the most powerful option is likely what you're trying to find out. We included a carefully researched list of the top ten strongest CBD oil brands ranked from most to least potent. In addition, you may be wondering if you can take 'too much' CBD or too strong of a dose. What would happen then? Are there side effects? In this article, we answered your every question about potency when it comes to CBD oil and dosing.
What Makes A 'Strong' CBD Oil?
Strong CBD oil is defined by many different factors including CBD concentration and the type of oil.
Concentration: Typically, you can pick from a variety of different CBD concentrations when purchasing your CBD oil on the product page of your choice. Some brands offer as low as 300mg of CBD and as high as 2400mg of CBD per bottle. The higher the concentration, the more expensive it is. So which of these creates the strongest oil? If you have severe or high pain symptoms, or simply want the most potent effect, a higher CBD concentration will benefit you. This means that it simply has more CBD in the product and less of the base oil or any other oils added.
Type of Oil: There are three different types of CBD oils and tinctures: full-spectrum, broad-spectrum, and isolate. there are many differences between the three types each having its own pros and cons. Isolate and broad-spectrum contain 0.0% THC– nothing. But, you won't get all of the benefits of CBD, making a less potent oil. Isolate is the least powerful– it contains only pure, isolated CBD. Broad-spectrum is in the middle. It contains some phytonutrients and cannabinoids from hemp along with the CBD, but not the whole package. Full-spectrum is the best in terms of potency. It has all the major and healthy cannabinoids, phytonutrients, and terpenes from hemp that work together to create an entourage effect with the CBD, multiplying the result it has on you. Full-spectrum oil contains 0.03% of THC or less, which is completely legal and still won't make you high.
The Strongest CBD Oils of 2022
How We Chose the Strongest, Most Potent CBD Oil Brands
Source of hemp: When ordering from a brand you aren't sure that you can trust, you may potentially be ordering illegal CBD that may contain more THC than what is allowed (0.03 percent). In addition to this, low-quality hemp simply creates low-quality products. All the brands we have picked source their hemp in the United States, on high-quality farms using the best CBD extraction methods for the job.
Other ingredients: In the list below, only brands that use natural and cruelty-free ingredients were added. Artificial ingredients and unhealthy preservatives can undermine the efficiency of the product and can also be dangerous to consume, whether it's taken sublingually or applied topically on the skin.  You can rest assured knowing that the brands below contain only healthy ingredients that will do you nothing but good.
Extraction method: While your CBD oil may look just like all of the other oils on the market, the extraction process can vary greatly between companies. We ensured to provide you with a list of brands that only use safe extraction methods like CO2 extraction or aerial extraction that avoids cross contamination and is environmentally sustainable.
The type of CBD: You can purchase CBD oil in the form of full-spectrum, broad-spectrum, or isolate CBD. We'll get more into the specifics of each of the three in the later parts of this article. Full-spectrum and broad-spectrum contain cannabinoids from the hemp, while isolate is purely CBD. Therefore, most people prefer full-spectrum or broad-spectrum for the entourage effect. Full-spectrum oil has more cannabinoids than broad-spectrum, but it may contain very small legal trace amounts of THC, while broad-spectrum does not.
Third-party testing: Probably the most important factor on this list, third-party lab testing ensures that the product you are receiving is completely safe, legal, and doesn't contain heavy metals or pesticides. It also checks to make sure that there is no illegal amount of THC and the correct amount of CBD. Every single brand on this list is third-party lab tested and also offers their lab reports on their website so that you can check them out for yourself.
Top 10 Strongest CBD Oil Brands In 2022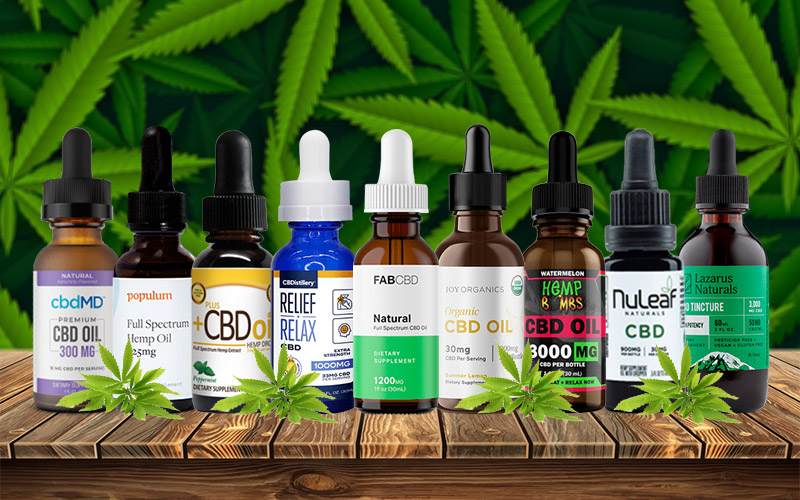 FAB CBD was founded in Wisconsin during the year 2017. They grow their hemp there organically using no chemicals or pesticides and provide nutritional products, health and skincare products, and pet products. FAB uses part of their profits for greater causes, including wishes for the Make-A-Wish foundation. FAB's CBD oil made it to the top of our list because of their all-natural, organic, Colorado-grown, and high-quality hemp that produces maximum potency cannabidiol. FAB's CBD-infused products offer support with everyday stress, exercise recovery, calmness, muscle soreness, and pain. If you're looking for joint pain relief or arthritis help, their CBD cream may be the perfect match. For anxiety and mood regulation, they offer several different CBD oils with many flavors to choose from.
Product info: FAB's CBD oil is known as their signature 'Pure CBD Oil', that is customizable through a wide array of flavor and concentration options. This is a full-spectrum product, and the lowest option (300mg) sells at $39. The 600mg option is $69, 1200mg is $99, and the 2400mg option is $129. This oil helps with anxiety, insomnia, mood disorders, arthritis, and other general pain.
Hemp Source: FAB's CBD is grown in Colorado farms, where hemp farming is entirely legal. They use no pesticides in their farming.
Ingredients: Organically Grown Hemp Extract, Full Spectrum Cannabinoid blend, flavoring from natural sources, Terpenes, Medium Chain Triglycerides (May contain trace amounts of hemp-derived THC <0.3%)
Extraction Method: FAB uses a special extraction method that pulls the terpenes, CBD, and flavonoids from the hemp plant using carbon dioxide, a completely non-toxic method. This is known as CO2 extraction and is an aerial method.
Potency: You have the option to pick your CBD concentration levels, ranging from least to most potent:
300mg
600mg
1200mg
2400mg
You can also mix and match flavors with these potency options to create your own custom CBD oil product. The available flavors include citrus, mint, vanilla, berry, and natural.
Lab Testing Report: FAB uses Proverde laboratories to test their products, and their lab testing reports are available online.
Shipping and Return Policy: FAB promises a 30-day money-back guarantee on all of their products. They accept returns only if they contain RMA (return merchandise authorization), and also pay shipping fees if the delivery was a mistake. For multiple item purchases, only one item can be opened and used for a return. Return shipping time takes approximately 3-9 days, while processing takes 4-7 days. FAB calculates their customer's shipping charges uniquely based on product height and weight. For orders of 99 dollars or more, shipping is completely free in the United States. Note that this company only ships to the United States. This includes all 50 states.
Pros:
Third-party lab tested, with reports available online
Fast shipping
Free shipping on orders over $89
Company offers a rewards program for customers
Cons:
Only ships to the United States
No options for auto-ship or subscription memberships for regular orders
CBDistillery was founded in 2016 in Colorado led by CEO Chase Terwilliger. They created a movement known as the '#CBDMOVEMENT' and created a CBD user guide that was downloaded thousands of times, their mission being to bring awareness to CBD as a wellness alternative. The company is certified by the US hemp authority and proudly uses natural farming practices on their industrial hemp. CBDistillery sells a combination of oils, topicals, softgels, gummies, and powders.
Product Info: CBDistillery's tinctures contain full-spectrum CBD so that you can take full advantage of the 'entourage effect'. They come in three potency options starting at 500mg, and are unflavored. If you want a flavored option, the 1000mg bottle also comes in Mango if desired. All tinctures are third-party lab tested and ISO certified.
Hemp Source: Just like where CBDistillery was founded, their hemp is sourced in Colorado. They use sustainable farming practices and are ISO certified as well as certified by the US hemp authority.
Ingredients: Fractionated coconut oil (MCT), CBD, full-spectrum hemp extract, natural terpenes, natural flavors.
Extraction Method: Like most CBD companies, CBDistillery uses CO2 extraction. Their processes and products are all certified by the US Hemp Authority.
Potency: CBDistillery offers a wide variety of options for CBD tinctures:
500mg: $45 (unflavored)
1000mg: $70 (available in Mango or unflavored)
2500mg: $155 (unflavored)
Each bottle is 1 fl oz.
Lab Testing Report: All of CBDistillery's products are third-party lab tested, ensuring that the THC amounts in their products are less than .05%. To view their lab reports, simply scan the QR codes on the product's packaging. The lab reports are also available on the product pages of the site if you haven't yet purchased the product.
Shipping and Return Policy: If you are unsatisfied, unopened and unused products may be returned within 7 days of delivery. If you need to cancel an order after purchasing, you must email CBDistillery customer service; cancellations are not guaranteed. You must also email CBDistillery customer service if you would like to make a return. Their products ship via UPS Surepost and take approximately 2 days to ship after payment. For orders above 75 dollars, shipping is free. This company does not ship internationally.
Pros:
Free shipping for orders above $75
Third-party lab tested
Rewards program available
Cons:
No shipping outside of the USA
Difficult and limited returns/cancellations
Low flavor variety
Joy organics was founded in 2018 by mother and grandmother Joy Smith. Her company is completely family-owned and operated, placing emphasis on the environment. Shipping is carbon neutral, and the products are grown using regenerative farming practices. Joy Smith began looking for CBD products but found that they didn't seem to have much effect. This inspired her mission to create a CBD healthcare company, her goal being to give customers quality CBD products. She sells CBD products that are certified USDA organic and promise to bring you nothing but joy (pun intended)! All products are cruelty-free and use recyclable materials.
Product Info: Joy Organics sells a total of 5 different CBD tinctures, 4 being broad spectrum. These include summer lemon, unflavored, orange bliss, and tranquil mind. Their new full-spectrum oil has a fresh lime flavor. All flavors are vegan and their broad-spectrum options contain 0.0% THC. All bottles are 1 fl oz.
Hemp Source; Joy Organics is a member of the US Hemp Roundtable. Their salves and tinctures are certified USDA organic, and the hemp is grown legally in the United States. They avoid pesticides and use water-saving practices to grow their hemp. The hemp is processed in a facility, extracted, and tested.
Ingredients: Organic Extra-Virgin Olive Oil, Organic Phytocannabinoid-Rich Hemp Extract, Organic Essential Oil (type of oil varies by flavor)
Extraction Method: Just like most major and legitimate CBD oil companies, Joy Organics utilizes a CO2 extraction method. This method best preserves the benefits of hemp like terpenes, flavonoids, and phytonutrients.
Potency: Joy Organics offers four different potency picks to choose from within each of their flavors:
450mg – $45
900mg – $70
1350mg – $90
2250mg – $130
Each of these options are all in a 1 fl oz glass bottle with dropper for easy use.
Lab Testing Report: All of Joy Organic's products are lab tested. The reports are available on the website, listed on every product page. The third-party laboratory that tests Joy's products is known as Cannalysis. For their broad-spectrum products such as the dog treats, they check for the smallest extracts of THC and ensure that your products contain 0.0% THC.
Shipping and Return Policy: Joy Organics proudly sells their products free of any shipping cost. There is a 30-day money back guarantee to return products. Anyone can purchase from the United States, but unfortunately, this company doesn't offer international shipping.
Pros:
Free shipping
Carbon neutral shipping
Lab-tested with reports available online
Cons:
Low full-spectrum variety
No international shipping
Expensive
Hemp Bombs takes pride in their wide assortment of unconventional CBD products. They opened their business in 2016 and now sell products like CBD tattoo ink and vape products in addition to oils. In fact, they even offer CBD themed apparel on their website, and you can find their products in thousands of retail stores.
Product Info: Hemp Bombs's oil ranges from 300mg to 5000mg of CBD and comes in many flavors including orange creamsicle, acai berry, watermelon, chocolate mint, unflavored, and peppermint. To view the prices, take a look at the potency section below.
Hemp Source: Hemp Bombs CBD is grown in America and is ISO-accredited and certified by independent labs.
Ingredients: Pure CBD Extract, Grape Seed Oil, MCT Oil, Natural Flavors (chocolate mint contains artificial flavors)
Potency:
300mg: $25
750mg: $55
1500mg: $105
3000mg: $155
5000mg: $255
These are each available in watermelon, chocolate mint, unflavored, peppermint, acai berry, and orange creamsicle. Each bottle contains 1 fl oz of product.
Lab Testing: Hemp Bombs CBD is ISO certified. All of their products are tested by independent labs, and they publish their reports to the public, which can be found on their website.
Shipping and Returns Policy: Hemp Bombs shipping is free for orders above 50 dollars. This company also does not ship internationally. Allow 5-10 days for your order to be delivered. As for returns, they offer a 30 day money back guarantee on all products, which can be returned or exchanged for any reason during this time.
Pros:
THC free
Free shipping for orders over $50
30 day money back guarantee
Cons:
CBD isolate only- no full spectrum products
No international shipping
Artificial flavoring may be used
PlusCBD takes pride in ensuring that their products are 100% safe for all to use. They use human clinical testing and DNA testing on their CBD products, and the company is run by members with expertise in the dietary supplements industry which includes educators, an advisory board, and management team. They have been selling CBD products since they were founded in 2012, and offer CBD sprays, balms, gummies, oils, and more.
Product Info: Plus CBD's oil products are known as their 'CBD drops'. They offer three potency options ranging from 250 to 1500mg, and come in multiple flavors including peppermint, goji berry, and unflavored. Their drops are full-spectrum, and unlike most CBD oil products, they have a pump top rather than a dropper top for easier spill-proof delivery. Pure CBD recommends that you use their oil drops twice a day and claims that it will help with sleep and focus, mood, and stress regulation.
Hemp Source: Plus CBD's hemp is grown using EU-certified hemp seeds from trusted sources. The hemp used in their products contains vitamins E and K, terpenes, sterols, and other minor cannabinoids from the hemp making it a full-spectrum product. Their hemp is grown using only water, earth, and sunlight.
Ingredients: CBD oil blend with extra virgin olive oil and natural flavoring
Extraction Method: Plus CBD uses CO2 extraction, the most healthy method for human consumption and most environmentally friendly extraction method.
Potency: You can choose a Plus CBD oil from 3 different potency options:
250mg: 1oz, $32. Available in Goji Blueberry, Peppermint, and Unflavored
500mg: 1.86 oz, $55. Available in Unflavored.
750mg: 1.86 oz, $60. Available in Unflavored and Peppermint.
Lab Testing Report: Plus CBD publishes their lab reports, or Certificates of Analysis on the product pages of their site. They also add QR codes on their product labels so that you can scan the product with your phone camera and access the lab report at any time. They are third party lab tested as well as DNA tested.
Shipping and Return Policy: All Plus CBD products can be returned up to 30 days after purchase, and shipping costs are excluded in the return process. Damaged product claims must be made within 72 hours of delivery. Shipping cost is determined by location, and processing takes 1-2 days. Plus CBD ships internationally to most countries.
Pros:
Flavor options
International shipping available (excluding some countries)
Full-spectrum
Cons:
Low variety
No free shipping
Non-USA grown hemp
Populum is a United States CBD brand that was founded by Gunshee in 2016. Gunshee was born in South Korea, where he learned of the importance of plants in natural healing; this inspired him to open up a CBD business to help others receive the benefits of hemp in many different forms. He sells capsules, oil, rub, and pet items like pet chews and oil. You can even purchase a Populum gift card for your friend who you've been wanting to show the opportunities of CBD.
Product Info: Populum's CBD oils are all an orange flavor and arrive in four potency options. They have been lab-tested 3 times each, and you can sign up for auto-ship to have them delivered straight to your door monthly. They are non-GMO, vegan, and their lab testing reports are available on the website. Each product contains 1 fl oz of product.
Hemp Source: Populum's hemp is grown in Colorado during the spring. In the fall, it is harvested and cured, as well as air-dried. They test their hemp with a third party three times before adding their products to their online shelves.
Ingredients: Full-spectrum hemp oil, grapeseed oil, hemp seed oil, virgin coconut oil, orange oil, stevia extract.
Extraction Method: Populum's extraction is cGMP certified and it isolates and removes any unwanted compounds while still making their products full-spectrum. After extraction, they run a second third-party lab test.
Potency:
250mg: $59
500mg: $99
1000mg: $179
2000mg: $279
Each of Populum's tinctures are in a 1 oz glass dropper bottle.
Lab Testing Report: One thing unique to Populum is the fact that they test their products not once, not twice, but three times with a third party. They place a lot of their focus on safety and accuracy, and you can view their lab reports on their product pages online.
Shipping and Return Policy: Populum uses USPS to ship their products, and standard shipping is free for all orders. You can purchase priority shipping for an extra seven dollars. USPS does not deliver on Sundays, and Populum does not ship internationally. Populum offers a 30-day money-back guarantee where you have 30 days to try out their products and if you aren't satisfied, you can return them. Returns may take 5 to 7 days.
Pros:
Lab-tested three times
Free shipping
USA grown full-spectrum hemp
Cons:
No international shipping
Expensive
No flavor variety
Nuleaf Naturals CBD provides products with ingredients just like its name– natural! Nuleaf Naturals was founded in 2014 by plant medicinists. For all of their products, they use a CO2 extraction method that is completely safe for humans and animals to use. In fact, CO2 is found in a lot of foods and beverages we consume already. As far as Nuleaf Naturals products go, you can also purchase CBD oil specifically for your pet or consume CBD yourself through soft gels. In fact, Nuleaf Naturals also carries CBG oil, or cannabigerol, another compound (albeit a less popular option) found in the hemp plant.
Product Info: Their pure CBD oil is a full spectrum product that is made with organic hemp. One 300mg of CBD bottle with 30mL of oil sells at $38.50. The 900mg alternative sells at $99. 1800,3000, and 6000mg options are also available; see the potency section below for prices. This terpene and cannabinoid-infused oil can help with conditions like arthritis and general pain symptoms, soreness, sleep problems, and mood instability or anxiety.
Hemp Source: Nuleaf Naturals's products are grown in Colorado, using irrigation from the Rocky Mountain waters. They control the entire farming practice to ensure the purity of their products.
Ingredients: Full Spectrum Hemp Extract, Organic Virgin Hemp Seed Oil
Extraction Method: Nuleaf uses a CO2 extraction method to separate phytonutrients from any impurities in the hemp plant. This is a completely safe and legal practice, and as Nuleaf notes, it is commonly used in carbonated beverages.
Potency: You can choose from a selection of 5 potency options:
300mg ($38.50)
900mg ($99)
1800mg ($180)
3000mg ($240)
6000mg ($440)
Nuleaf regularly has sales, so these prices are subject to change. Check out their site for the most recent sales and price updates.
Lab Testing Report: Nuleaf Naturals products are all tested by independent labs. You can view the reports of their lab tests on the product pages on their site. According to Nuleaf, their independent labs check for mold, fungi, pesticides, herbicides, and heavy metals. They also check to ensure that there is a good amount of terpenes and cannabinoids to create a quality product. An organization known as the Detox Project checks Nuleaf products for pesticides. The products are also cGMP and ISO certified.
Shipping and Returns Policy: Nuleaf ships their products to all fifty states and internationally. In fact, USA shipping is free and fast, arriving in 2-3 days. This company ships with USPS, and you can pay for express shipping at checkout. You may return products within thirty days of delivery for a full refund, but they must be unused and unopened. Nuleaf Naturals does not pay return shipping costs. Nuleaf will give you a free exchange if your product arrives damaged or defected.
Pros:
Free shipping for orders above $75
Third-party lab tested
Both anytime and nighttime gummy options
Cons:
Expensive
No shipping outside of the USA
Difficult and limited returns/cancellations
Lazarus Naturals's farms are located in Central Oregon, where 120 acres are certified organic by the USDA. Their founder, Sequoia Price-Lazarus, opened up the business in 2014 with a goal to make cheaper CBD products that are accessible to everyone. He became the head of a unique assistance program of Lazarus Naturals that helps to achieve this for veterans, people with disabilities, and others in need.
Product Info: Lazarus's oil products are CBD tinctures. They come in full-spectrum and THC-free options, as well as many flavors like chocolate mint, french vanilla mocha, yuzu,  orange, unflavored, and wintermint. You can pick from high potency or standard potency options and purchase any sizes from 15-120ml.
Hemp Source: All Lazarus naturals products are currently or in the process of becoming USDA certified organic and are grown in Central Oregon farmland.
Ingredients: Organic Coconut MCT Oil, Organic Full Spectrum Hemp Extract, Organic Natural Flavors. CONTAINS: Tree Nuts (Coconut).
Extraction Method: Lazarus Naturals uses cryogenic ethanol to extract the cannabinoids, terpenes, and flavonoids. It is then filtered and tested.
Potency:
15 ml with 750mg of CBD: $24
30ml with 1500mg of CBD: $40
60ml with 3000mg of CBD: $70
120ml with 6000mg of CBD: $120
These arrive in French vanilla mocha, chocolate mint, classic, and yuzu.
Lab Testing: All Lazarus Naturals products are third party lab tested and are posted on a test results repository. They adhere to the American Herbal Pharmacopoeia (AHP) monograph on cannabis. They test for potency as well as heavy metals and pesticides.
Shipping and Returns Policy: Lazarus provides free shipping on all orders over $25. You can return any of their products for any reason within 90 days of delivery for free. You must contact their customer service to make a return. They ship internationally to a large list of countries outside of the USA, and the list is available on their FAQ page.
Pros:
Third party lab tested
Free shipping on orders over $25
Oregon grown hemp
Cons:
No broad-spectrum oil
Limited international shipping
Added ingredients
What makes Green Roads CBD special is that their premium products were formulated by pharmacists. Laura Fuentes, a licensed pharmacist, and her friend founded Green Roads and even still refers to clients as 'patients' on the (green) road to natural healing. They sell CBD chocolates and coffee, a spa collection, topicals, capsules, oils, and any other CBD product you can think of! Their 'CBD University' page is a blog with articles on everything you need to know about CBD.
Product Info: Green Roads caters to every individual 'patient's' needs by offering both full-spectrum and broad-spectrum oil options. If you are looking especially for sleep CBD oil, Green Roads also offers 'sweet sleep CBD oil'. For full-spectrum oils, there aren't any flavor options, but you can pick from three different potencies. For broad-spectrum, you can pick from three potencies as well as three flavors: unflavored, apple kiwi, and mint breeze. Their sweet sleep oil is a 750mg option.
Hemp Source: Green Roads' hemp is sourced in American farms that are held to the standards of the 2018 farm bill.
Ingredients: Full spectrum oil: Hemp Derived Full Spectrum Cannabinoid Extract. Other Ingredients: Glycerin, MCT oil, Sunflower Lecithin, Helianthus Annuus (Sunflower) seed oil, Hemp Seed oil. Broad spectrum oil: Hemp-Derived Broad Spectrum Cannabinoid Extract. Other Ingredients: Glycerin, MCT oil,Natural Flavor, Sunflower Lecithin, Helianthus Annuus (Sunflower) seed oil, Hemp Seed oil
Extraction Method: Green Roads uses natural CO2 extraction to get their broad-spectrum, full-spectrum, and isolate CBD. After extraction, they test their raw materials for pesticides, heavy metals, and more.
Potency: Broad Spectrum (Apple kiwi, mint breeze, or unflavored)
300mg: $45
750mg: $90
1500mg: $150
Full Spectrum (Unflavored only)
300mg: $45
750mg: $90
1500mg: $150
Each bottle is 1 fl oz.
Lab Testing Report: Green Roads products are all lab tested, albeit the lab reports may be more difficult to access than some other brands. You can find the batch numbers for their products under the 'labsheet' tabs, and then you must copy and paste the correct batch numbers into their database to find their lab testing reports.
Shipping and Return Policy: Green Roads is currently looking to expand their business and offers international shipping to select countries only. They also take requests for wholesale international orders. They use any major shipping carrier based on the customer's location. You can return any product within a 30 day money back guarantee. To request a refund, you must call their customer service team.
Pros:
Choose between broad and full spectrum oil
Hemp Grown in Colorado
Pharmacist-founded
Cons:
No flavor options for full-spectrum oil
Not all ingredients specified on labels
Difficult to access lab reports
cbdMD is a privately-owned CBD company based in the USA. They offer a multitude of unique CBD products beyond creams and oils. On the CBDMD website, you can find CBD pet products, botanicals, and bath bombs. All of their products are made in the United States and lab tested, and they have joined together with athletes who use their products for inflammation and pain relief related to sports and workouts.
Product Info: One of cbdMD's best-sellers is their CBD tincture, which is available in four different flavors plus a limited time coconut MCT oil flavor. Their main four flavors include natural, berry, orange, and mint. Their oils are all formulated with a broad spectrum blend, containing added flavonoids and terpenes from their hemp. For prices and potency options, see the 'potency' section below.
Hemp Source: cbdMD's hemp is all grown in the United States and is certified by the US Hemp Roundtable. They are also affiliated with the Natural Products Association, are GMP tested and certified, and affiliated with the Hemp Industries Association.
Ingredients: Hemp Extract (Cannabidiol, Cannabigerol, Cannabinol), MCT Oil, and Natural Flavor.
Extraction Method: cbdMD uses CO2 extraction to retain the hemp's amino acids, terpenes, and phytonutrients during the oil creation process.
Potency: cbdMD offers 7 different potency options:
300mg (30mL): $30
750mg (30mL): $60
1000mg (60mL): $70
1500mg (30 or 60 mL): $90
3000mg (30mL): $130
5000mg (30mL): $180
7500mg (30mL): $210
Lab Testing Report: All cbdMD products are third-party lab tested by an ISO certified lab, as well as GMP tested. You can find their analysis certificates on their website, but you must input the specific batch number you are checking for to view certificates.
Shipping and Return Policy: Shipping is free for all USA CBDMD orders, arriving within two to three days. Currently, shipping is limited to the United States. This company ships with FedEx. You can return your products within sixty days of receiving them for any reason with a sixty day money back guarantee. CBD MD will cover return shipping costs.
Pros:
Made in the United States
Free shipping in the USA
2-3 day free shipping on all orders over $79.95
Cons:
No international shipping
No full-spectrum oil
Difficult to access lab reports
Why CBD Potency Matters?
CBD potency is actually one of the most important factors of the oil– it can determine whether or not you'll get the effect you need (or any effect at all!) If you purchase an oil that doesn't contain enough CBD, you may not feel any effect at all when using it, leaving you disappointed and even skeptical to try CBD again.
You can maximize the power of your CBD oil by making sure you purchase a full-spectrum product. Full-spectrum oil creates an entourage effect, where all of the compounds in the oil work together to amplify your results in a type of reaction. Additionally, the way you consume your CBD plays a role in how well the cannabidiol is absorbed into your bloodstream. If you just swallow it, almost none of it is actually going into your bloodstream– this could be responsible for no effect. Instead, hold it under your tongue for as long as possible before you swallow the oil.[10]
Full Spectrum vs. Broad Spectrum vs. Isolate
Full Spectrum: Full-spectrum is the richest type of extract taken from the hemp plant. In full-spectrum oils, the CBD is not isolated when it is extracted from the hemp; rather, the terpenes, flavonoids, and phytonutrients of the hemp are all extracted along with the CBD, so that you get the benefits of the many compounds in hemp and not just CBD. Because of the amount of compounds in full-spectrum extract, it may contain very small trace amounts of THC, but never above the legal limit (0.03). Full-spectrum products are responsible for what scientists call the 'entourage effect'.
Broad Spectrum: Broad-spectrum comes up next in terms of richness. It has some compounds from hemp in addition to the cannabidiol, but not the whole package. One factor that makes broad-spectrum a good option for some is that it contains absolutely no THC, not even 0.03%. If you are afraid to use CBD due to trace amounts of THC, you can always opt for broad-spectrum instead and you won't need to worry.
Isolate: Isolate takes last place. CBD isolate is– CBD. Pure, pure cannabidiol, and nothing more. Like broad spectrum, isolate also contains 0.0% THC. If you don't want any other hemp compounds in your product and only want CBD in its isolated form, then an isolate product may be best for you, but keep in mind that you can't experience the entourage effect with an isolate product. Hemp bombs and Medterra CBD offer isolate products.
What's the Best CBD Oil for You?
There's no true 'one size fits all' CBD oil, because we're all different. Some people might want a more potent or less potent option depending on the condition they are trying to treat. Some may prefer isolate or broad-spectrum because they want a strictly THC free product, while others want to take full advantage of the compounds in the hemp plant and use full-spectrum. With all these customization options in mind, we picked and explained which type of oil would be the general best pick.
Hemp source: The ideal CBD oil would have its hemp sourced in an American farm with the optimal climate for healthy and clean growth. You may have noticed on the list above that quite a few brands boast about their Colorado sourced hemp. Colorado farms have continually held the best conditions for producing the best hemp for CBD oil.
Lab Testing: You shouldn't ever purchase a CBD oil that hasn't been lab tested with a certificate online. If you do, you're running the risk of having CBD oil that might have a high amount of THC, heavy metals, pesticides, and… less CBD than it says on the bottle, even. Make sure that you can pull up their lab testing certificate and review it before buying any CBD oil. All of the brands we included on the list above are third-party tested and certified.
Type of Extract: Full-spectrum is the best option when it comes to CBD oil. It contains flavonoids, phytonutrients, and terpenes from hemp– not just CBD! This creates an entourage effect, or maximized effect that occurs from a reaction between all of the compounds working together. If you can, always try and opt for a full-spectrum oil (or any full-spectrum CBD product).
How to Use CBD Oil?
There are multiple factors to take into consideration before choosing your dosage. Each person needs a different dosage depending on their body weight and condition they are treating. It's best to discuss with a health practitioner, doctor, or holistic doctor/medicinist to determine your optimal dose.
You can also determine your own dose by starting off with a small concentration and working your way up until you feel you have reached your desired effect. You may be tempted to start big and see what happens; but in reality, your body does need time to adjust to the new introduction of cannabidiol to its endocannabinoid system, so it's best to start small and move your way up.
Most CBD oils are typically taken sublingually. Take the dropper and fill it to the desired mark, then squeeze the oil underneath your tongue. Hold the oil there for 30 to 60 seconds, and then you can swallow normally. You can also add CBD oil to a salad or smoothie, or even rub it onto the skin topically (although this may produce a less potent effect).
CBD Oil Dosage: What Is Considered A Strong Dose Of CBD? How Do You Determine Strength?
According to Healthline, start with 20-40 mg per day and increase your dose by 5mg after a week. Keep repeating this 5mg increase schedule per week until you have achieved your desired results.[6] However, you can really take as much as you feel that you need. Take a look at your individual product's website page to see what the specific brand recommends as a daily dosage. Some brands recommend that you take the CBD oil dose twice daily, once in the morning and once before bed, while other companies recommend it once a day. You can play with the recommended dose to create your own custom dosage schedule.
Can you take 'too much' CBD? Well, the World Health Organization states that even in extremely large doses of CBD, you will likely get very drowsy and get an upset stomach. However, CBD won't cause death or major side effects. It is one of the only substances that the WHO considers to have no major side effects or dependency. [7], based on the lethal dose of CBD which would be a whopping 20,000 milligrams. Don't worry– you can't purchase any product that would come remotely close to that amount of CBD.
You can determine the strength of an oil by the amount of CBD per bottle. CBD oils start around 300mg per bottle. Any oil within the 300-1000mg range should be a low to low-moderate dose. A strong dose of CBD would start in the 1200mg range where you're taking the recommended dose daily. CBD oils can even contain as much as 5000mg per bottle. The stronger the dose of CBD, the quicker and stronger the effect– although you may have a higher likelihood of getting mild side effects.
The Pros and Cons of Using High-Strength CBD Oils
So far, we've mainly discussed the benefits you can get from using high-potency or high-strength CBD oils. But we want to be completely transparent– so here is a full pros and cons list so that you can take a look at all of the sides of potent CBD oil.
Pros
Faster results
More noticeable effect
Longer lasting effect
Treatment for a wide variety of disorders including depression and anxiety, sleep disorders, arthritis, and epilepsy
Cons
The more CBD in your oil, the more expensive it is
Higher risk of side effects
CBD may have unwanted reactions with other medication
Potential liver damage: one study showed that CBD can potentially cause liver damage if used in very high amounts like alcohol[9]
Benefits of CBD Oil
Seizures: CBD is actually FDA approved in a prescription medicine known as epidiolex, which is scientifically proven to reduce seizures. In fact, CBD is proven to work by reducing inflammation in the brain and changing calcium levels to slow messages which then suppresses seizures[1]. The syndromes that this medicine treats are known as Dravet syndrome and Lennox-Gastaut syndrome.
Arthritis: Northwestern Medicine notes on a study of CBD oil and dogs showed that CBD oil helped their osteoarthritis to make them more active and in less pain. More research sparked by this shows that CBD oil is a gentle and natural treatment for adults with arthritis, and according to the rheumatoid arthritis organization, CBD oil is a great option for treating pain symptoms caused by the condition.[2]
General Pain: According to a study conducted recently by Harvard University, cannabidiol produces promising effects when it comes to pain relief. This experiment was done on rats. In fact, in certain areas of the nervous system, CBD was ten times more potent than morphine in pain treatment– that's a major number! Additionally, Sativex, a hemp medicine containing equal parts THC and CBD was approved in Canada for treating multiple sclerosis and even cancer pain. This Harvard study also found the cannabidiol is a greater antioxidant than Vitamin C and Vitamin E.[3]
Insomnia: Research shows that CBD works with the receptors in the brain that affect the sleep-wake cycle. A national study tested CBD on subjects with sleep complaints. At the end of the study, results showed that sleep quality shot up in an experimentally significant amount within the first month of using CBD in over 65% of the patients.[4]
Anxiety and Mood Disorders: The US National Library of Medicine Institutes and Health has conducted a study on CBD and anxiety that shows CBD can potentially treat anxiety disorders.  It can also bring quick relief for THC-induced anxiety. The study also showed that CBD helped treat people with social anxiety disorder. It prevents loss of grey matter in the brain, memory loss, and even psychotic symptoms.[5]
Side Effects of CBD Oil
As with any medical product, it's important to be aware of possible side effects before use. Luckily, CBD typically has no side effects, and when it does, they are very mild. Pregnant or nursing women, as well as children under 18 should consult a health specialist before using CBD.
The US National Library of Medicine has conducted a survey on those experiencing side effects to document which are the most prevalent.[8]
30% dry mouth
22% feeling high
20% change in appetite
19% fatigue
Some also experienced gastrointestinal symptoms. Researchers are currently looking to see if these side effects are not caused by CBD, but rather by small amounts of THC in the product (specifically the 'high' feeling which is not caused by CBD).
Final Thoughts on the Strongest CBD Oils
By now, you're likely a CBD oil expert. You read all about the benefits of CBD oil, from treating general mood disorders to being a prescription treatment for certain types of epilepsy, and about the possible side effects that can occur in some users. FAB CBD made it to the top of our well-researched and in-depth list of the strongest CBD oils, ranked. All of the oils we included on our list are safe, legal, and third-party lab tested; we saved you all the worry! So whether you're still doing your research before making your first purchase or you simply needed a refresher on the science and facts about CBD oils, you're guaranteed to be able to make a smart next purchase that can benefit you in many ways that other forms of natural healing and medicine can't.
References:
[1] What Research Says About CBD Oil – https://www.nm.org/healthbeat/medical-advances/science-and-research/what-research-says-about-cbd-oil
[2] Does CBD Oil Really Help Treat Arthritis Pain? – https://www.rheumatoidarthritis.org/cbd-oil/
[3] Cannabinoids in the management of difficult to treat pain – https://www.ncbi.nlm.nih.gov/pmc/articles/PMC2503660/
[4] Cannabidiol in Anxiety and Sleep: A Large Case Series – https://www.ncbi.nlm.nih.gov/pmc/articles/PMC6326553/
[5] Cannabidiol as a Potential Treatment for Anxiety Disorders – https://www.ncbi.nlm.nih.gov/pmc/articles/PMC4604171/
[6] CBD Dosage: How Much S hould You Take? – https://www.healthline.com/health/cbd-dosage#how-much-to-take
[7] Can you take too much CBD? too much CBD – https://www.openaccessgovernment.org/take-too-much-cbd/71920/
[8] Are side effects of cannabidiol (CBD) products caused by tetrahydrocannabinol (THC) contamination? – https://www.ncbi.nlm.nih.gov/pmc/articles/PMC7029751.3/
[9] 10 Pros and Cons of CBD Oil Pros and Cons of CBD Oil – https://honestproscons.com/pros-and-cons-of-cbd-oil/#4_Elevated_Liver_Enzymes
[10] Why CBD Oil Potency Matters – https://www.yahoo.com/now/why-cbd-oil-potency-matters-160445567.html