If you are looking for a weed strain that has won various awards in the Cannabis Cup, then you need to sample Girl Scout Cookies. This weed strain is of top-shelf quality. As a matter of fact, it's regarded as a supreme strain of marijuana and it is the favorite option for stoners, as well as. patients. Its attractive and enticing minty flavor and earth-like aroma have made it be a top-rated strain.
After the legalization of medical marijuana in all American states, people are scrambling to find the best strain. Girl Scout Cookies has emerged to be among the top strains, especially with patients. It's used with patients suffering from various medical conditions. Besides that, it's a wonderful type of weed which you can use to clear your head. Its soothing, as well as. relaxing effect is what makes it great for entertaining.  This article provides an updated review of Girl Scout Weed Strain.
What's Girl Scout Cookies Strain?
It's a hybrid marijuana strain that contains 40 percent Sativa and 60 Percent of the Indica genetics. According to history, this strain's lineage comes from two popular strains of weed: the OG Kush hybrid and the Sativa-dominant Durban Poison Strain. Lab Tests indicate that these weed cookies have a THC content that ranges between 17 to 29 percent. This level is usually higher for the smoking strain of the Girl Scout weed.
Conversely, the CBD content these marijuana cookies are very low. They range between 0.1. And 0.2 percent. Growing this weed usually, result in phenotypes variations based on genetics. Girl Scout Cookies can produce some batches of the Thin Mint and Platinum Cookies. The origin of Girl Scout Cookies goes back to California. However, it's currently grown in different areas of the world. It's found in most dispensaries in the US and it's not a very difficult weed strain to grow.
The Appearance, Aroma, and Flavor of the GSC Strain
A conspicuous attribute of these cookies is that they have a mint-like aroma.  Girl Scout has an earth-like undertone that creates a feeling of buoyancy. The aroma basically lifts you up and then brings you to reality.  GSC weed has a sweet flavor that stimulates every taste bud. Its flavor provides pure magic and bliss. Regardless of the type of consumer, this strain provides the perfect balance.
The appearance of these cookies strains usually varies. However, they generally have a turning bright green calyxes which have a twisting appearance. They are also bundled with hairs which have neon-orange color and leaves which have deep-purple shades. This strain can easily change the aesthetics of the surrounding environment thanks to its gorgeous physical appearance. Physically, GSC is tall. They have a branch structure that resembles that of OG Kush.
The Growing Information of Girl Scout Cookies Strain
This is a weed strain that isn't easy to grow. But again, it's not known to be a very challenging strain. The growing difficulty of these cookies can be considered as middle. For growers who are well informed, it is still very possible to successfully plant and harvest a high-quality of weed from this strain.
Growing Environment
Girl Scout Cookies are perfect for both indoors and outdoors. However, it's only possible to grow them outdoors when the climate is proper. This weed strain requires a Mediterranean type of climate i.e. plenty of warmth and sun. The flourish indoors because the climate is constantly regulated. Ensure that you have a hydroponics system indoors for you to get better yields.
Maintained
Like most strains of marijuana, Girl Scout Cookies are low-maintenance strains. They are reasonably resistant to mold and pests. Besides that, it's easy to cultivate them. To support quality growth and improve on the harvests, this pot requires an average amount of fertilizer.
Temperature and Humidity
The reason why these cookies are mostly grown indoors is that this environment makes it easy to manage humidity and temperature. This hybrid marijuana strain requires a temperature of about 68-78 degrees Fahrenheit. It requires an average level of humidity i.e. 50 percent. Note that both humidity and temperature are normally slightly reduced during the flowering period.
Flowering and Harvesting
These cookies strain usually takes about nine or ten weeks for it to flower. It has an average height and it's a powerful strain with a more than average yield. A single plant usually yields about 60g of ganja when it's grown indoors and 10g for every plant when it's grown outdoors. And the harvesting season is mostly in mid-October.
Overall, Girl Scout Cookies require a lot of space for them to stretch out. And because it has an average height it has large leaves and very powerful arms. This weed needs a lot of space to cater for its strong branches and that's why some growers opt to plant it outdoors.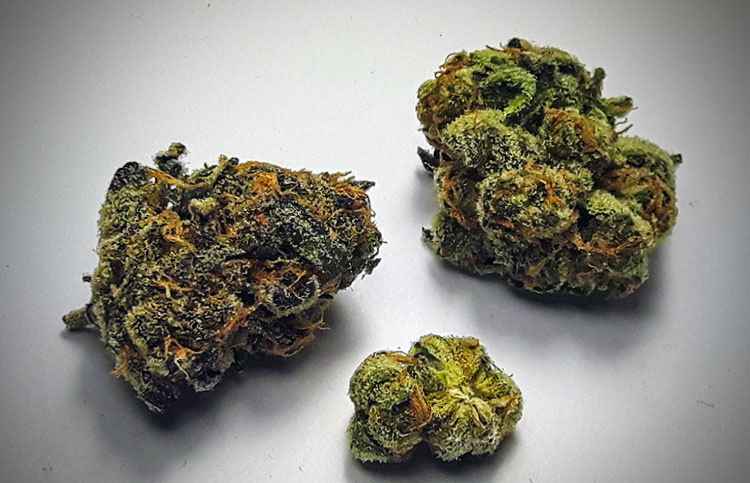 Benefits of Using Girl Scout Cookies
The GSC Strain has a lot of benefits. Medically, it isn't considered as highly effective because it contains low amounts of CBD. However, it compensates for this with its high levels of THC which have potent and safe medicinal properties. Patients who have tried to use the weed girl have witnessed significant health benefits.  With a THC content that can go up to 29 percent, this marijuana strain is also perfect for recreational purposes.
GSC Weed Strain and Mental Illness
Treating mental illness is not easy. The condition itself is not very easy to diagnose and the use of conventional treatment options have proved to be ineffective. Conditions such as depression, stress and anxiety are currently being treated with cannabis. These weed cookies have proved to be effective in treating these conditions. Scout Cookies help to soothe the nerves. It's an excellent mood booster thanks to its sativa component. Besides that, its Indica genetics makes it an effective strain for relaxation.
Chronic Pain Treatment
People dealing with severe or chronic pain disorder can find a working remedy in this hybrid marijuana. GSC weed provides an amazing pain relief to patients suffering from conditions such as neuropathic pain, fibromyalgia, muscle aches, polymyositis, and other conditions that affect the musculoskeletal system. It's a wondrous marijuana hybrid that is also used to treat migraines and headaches.
Nausea and Insomnia
Individuals suffering from insomnia and nausea, Girl Scout weed helps to soothe the digestive system. Its high THC content has a sedative effect hence it helps to induce sleep. The best thing about these cookies weed is that it can be used by connoisseurs, stoners, and patients.
Varieties of Girl Scout Cookies
This hybrid marijuana strain has over 28 different types of varieties. The cookies are sometimes sold under different names depending on the brands. When it comes to naming marijuana products, there is no standardization and this can lead to confusion. When this strain is used to make cookies in bakeries, it can be used to create varieties such as:
Thin Mints Cookies: Thin chocolate wafers with a mint flavor

Thanks A Lot:

 A type of shortbread cookie that's dipped in fudge.

Lemonades:

 They are cookies shortbread) which have a lemon icing.

Trios:

 It's a gluten-free type of oatmeal cookies that has peanut butter and chocolate chips
Potential Side Effects of Taking Girl Scout Cookies
There is no doubt that this marijuana strain has a lot of benefits to users. However, users are often advised to take them in adequate limits to prevent an overdose. The side effects of this weed are usually mild and they last for only a few minutes. Most users of GSC Strain usually experience the dry-mouth condition. The good thing about this is that you can manage it by hydrating. Drink lots of fluids including water during the day. Ensure that you also take water during your puffing sessions to avoid experiencing dry-eyes.
Note that you can use a fresh orange juice to increase the feeling of "highness". Orange Juice contains high amounts of vitamin c which are excellent at increasing the levels of THC.  This juice will make your overall experience of "highness" heftier and still ensure that your body is well-hydrated. You can also avoid any severe side effects by ensuring that you take care of your limits. Being happy is vital, just ensure that you have plenty of munchies and water with you.
Final Thoughts
For beginners growing Girl Scout Cookies can be challenging. However, if you are armed with the right information, the whole process becomes easy. Its incredibly high THC content as well as. quality makes it a top marijuana strain. Girl Scout Cookies has an intoxicating and lingering aroma with a sweet flavor. It's a strain that's globally desired and praised.