We're all looking for that 'holy grail' healthcare product when it comes to pain and muscle soreness. Breakthroughs in wellness, science, and health are talking about a possible solution: cannabidiol creams. CBD oils, creams, and even gummies are available throughout the market that brings promising improvements towards a multitude of issues, like pain and even mental health. In fact, CBD doesn't stop at human health– it can be found in numerous products for your pets too.
What is CBD, and What's All The Hype For?
Cannabidiol, or CBD, is a compound extracted from the cannabis plant. But don't be frightened– cannabidiol isn't psychoactive, and it won't alter your mental state. It's delta 9 tetrahydrocannabinol, commonly shortened to THC, a separate compound that induces euphoria. Tiny trace amounts of THC in CBD products may cause peace of mind and calmness; however, these are just some more benefits of these products. Both CBD and THC are derived from the hemp plant, but research proves CBD products are entirely safe to use for adults. To learn more about CBD click here.
Studies show that CBD in pet products expedites pain relief in animals. This interesting premise has left scientists wondering what health benefits CBD can provide for humans. There are currently many studies underway that are working to prove CBD's benefits for people. According to Harvard Health, studies done on children with epilepsy and seizure related illnesses have proved that CBD eliminated seizures or lessened their frequency. Due to this, the FDA has approved CBD-containing Epidiolex as a medication for these illnesses– their first ever approval of a cannabidiol product[2]. Lastly, studies prove time and time again that CBD induces the perfect level of drowsiness to treat insomnia. Clearly, CBD studies are onto something; perhaps, a new world of medical benefits that have yet to be discovered.
As scientists are continuing to examine CBD, the hemp industry is growing larger than ever before. THC and CBD are only a few products that come from the hemp plant. Hemp is actually rather low maintenance, and creates fibers[3]; it's a booming market that is taking over modern agriculture and medical care.
With the hemp industry continuing to expand and studies on CBD becoming widespread, it won't be a surprise when CBD becomes the new norm for treatments in medicine and psychiatry.
Before we delve deep into the intricacies of CBD, here's a common question: In what form do you even take CBD?
Well, you have many options– gummies, oils, and creams. In this article, we're going to examine CBD creams and how topical CBD products are revolutionizing healthcare.
What is CBD Cream?
As you now know, CBD comes in many different forms. The one we are focusing on this article is cream; but what makes CBD cream the best option to take cannabidiol in?
In other forms of CBD such as oil, the CBD is taken in sublingually (under the tongue). Although taking CBD sublingually is the fastest method to experience the effects of CBD, it does not concentrate the effect on a specific area of the body, such as a sore arm or inflamed spot.
This is why when it comes to pain, a topical CBD solution is your best bet. Many CBD creams are also infused with other added ingredients that soothe pain and can be rubbed onto any desired area of the body to concentrate the healing effect in a specific place.
Best CBD Cream Brands for 2022
This unbiased review will help you choose the best CBD topical brands. Check the highlights and details below of each brand that is available online for sale.
How We Compiled Our CBD Cream for Pain List
Although there may be a large amount of CBD creams on the market, don't worry about getting overwhelmed. The CBD Break has compiled an exclusive list of the best brands available, taking into consideration many factors about each and every product.
It's also not just the amount of CBD in each cream that makes it work or not– there's actually a lot more to it. Here's a basic rundown of where we got our evidence from:
Customer testimonials
Hemp quality and location
Rankings on internet forums and studies
The other ingredients in each unique CBD cream: artificial or natural?
Packaging instructions and clarity
And if there are harsh chemicals being used in the extraction process– no one likes those.
It's a lot– yes. And lucky for you, you get all of this tried and true research in one nicely organized list.
Best CBD Topical Brands for Pain
FAB CBD was founded in 2017 in Colorado. They grow their hemp there organically using no chemicals or pesticides and provide nutritional products, health and skincare products, and pet products. FAB uses part of their profits for greater causes, including wishes for the Make-A-Wish foundation.
FAB CBD cream made it to the top of our list for CBD creams in 2022– and not without good reason. It's all-natural, organic, Colorado-grown, and high-quality hemp that produces maximum potency cannabidiol.
FAB's CBD infused products offer support with everyday stress, exercise recovery, calmness, muscle soreness, and pain.
You can learn more about FAB's topicals by clicking here. Each 2oz container is infused with 600mg of cannabidiol in addition to other hemp extracts and naturally soothing ingredients.
Lab Testing
FAB CBD works together with ProVerde laboratories to test their CBD products, including this cream. ProVerde laboratories checks FAB products and shows that they contain the ingredients described on their website and the appropriate potency that they promise.
FAB CBD  remains completely transparent about their own lab testing reports. In fact, they make them available on the internet for anyone to read. You can check out FAB's lab testing reports at: https://fabcbd.com/lab-reports.
How to Use
FAB CBD offers a step by step guide with tips and instructions on how to get the maximum benefit from their products.
According to FAB, consistency is key. It's even best to use their product at the same time of day every day. To get results, you only need to use a small amount of cream daily. Simply take a fingertip sized amount of the cream and rub it into any desired area on the skin to begin experiencing the soothing effects of cannabidiol.
Shipping and Returns
FAB promises a 30-day money back guarantee on all of their products. They accept returns only if they contain RMA (return merchandise authorization), and also pay shipping fees if the delivery was a mistake. For multiple item purchases, only one item can be opened and used for a return. Return shipping time takes approximately 3-9 days, while processing takes 4-7 days.
FAB calculates their customer's shipping charges uniquely based on product height and weight. For orders of 99 dollars or more, shipping is completely free in the United States.
Note that this company only ships to the United States. This includes all 50 states.
Pros:
Highly effective topical CBD cream
Top-notch customer service
Fast shipping
Free shipping on all orders over $89
Third-party lab tested, with reports available online
Company offers a rewards program for customers
Cons:
Only ships to the United States
No options for auto-ship or subscription memberships for regular orders.
Medterra's CBD is Kentucky grown. Their hemp extraction practices are carefully regulated to meet the standards of the Kentucky Department of Agriculture. They are based in Irvine, California, and all their CBD products are proudly made in the United States.
They grow their hemp in Kentucky in compliance with Section 7606 of the 2014 Farm Bill, making their CBD products completely legal at the federal level.
Medterra CBD sells a wide variety of CBD topicals. Their most prominent, however, is their pain relief CBD cream composed of 99 percent naturally derived ingredients. They add no plasticizers or contaminants into their cream so that it can absorb fully into the skin.
This CBD cream sells at $54.99 for a 1.7ml bottle with 1000mg of CBD. It promises fast relief for arthritis and joint pain. A $34.99 alternative is available with half the concentration of CBD, at 500mg for a 1.7 oz bottle.
Lab Testing
Medterra CBD gets their products lab tested through Green Scientific Labs. This lab runs tests on all of their products to ensure there are no pesticides, heavy metals, or bacteria.
The company also provides their lab testing reports online so you can see their results for yourself. To view these, simply find the product page of the item you want to check and you'll find an easy and accessible button to take you to a PDF of their real and raw results.
How to Use
According to the Medterra website, their CBD pain relief cream can be applied to any area of the body that feels painful. This includes areas such as your shoulders, arms, or back. You can use this CBD cream as needed. Simply rub it onto the desired area and then wash your hands with cool water. The menthol and cannabidiol combo in this product is guaranteed to provide a soothing, cooling effect.
Shipping and Returns

Medterra CBD ships their products legally to all fifty states, as well as internationally to Europe. Shipping is free. If you want to return your product, you can do so within thirty days of when it was received. However, Medterra does not cover return shipping fees.
Pros:
Multiple concentration options
Ships to all 50 states and internationally
Free shipping
Can be purchased at many retail chains
Third-party lab tested
Cons:
Many added ingredients
Shipping cost not covered for returns
Sometimes delivery takes a while
cbdMD has a wide array of CBD products available on the market– includin g sprays, balms, and even massage oils. They made it to number 5, the last product on our list. To be specific, we're looking at their CBD 'Recover' and inflammation cream.
cbdMD is a privately owned CBD company based from the USA. They offer a multitude of unique CBD products beyond creams and oils. On the CBDMD website, you can find CBD pet products, botanicals, and bath bombs. The company offers a rewards program where customers can subscribe and receive discounts on purchases, including 15 percent off first orders. All of their products are made in the United States and lab tested. They have joined together with athletes who use their products for inflammation and pain relief related to sports and workouts. 
You can purchase their recovery cream at cbdmd.com for $29.95 for a 2 oz tub containing 300 mg of cannabidiol.
Lab Testing
All cbdMD products are third party lab tested by an ISO certified lab, as well as GMP tested. You can find their analysis certificates on their website, but you must input the specific batch number you are checking for to view certificates. 
How To Use
According to cbdMD, your body takes time to adjust before showing the benefits of their cream. You should allow 2-3 weeks for results to show. Gradually rub the cream on any desired are of the skin every day, or as needed. 
Shipping and Returns
Shipping is free for all USA cbdMD orders, arriving within two to three days. Currently, shipping is limited to the United States. This company ships with FedEx. You can return your products within sixty days of receiving them for any reason with a sixty day money back guarantee. CBD MD will cover return shipping costs.
Pros:
Made in the United States

Free shipping in the USA

2-3 day free shipping on all orders over $79.95

Provides three types of container options
Has four strength options
Cons:
No international shipping

Very low CBD concentration
Joy organics was founded in 2018 by mother and grandmother Joy Smith. Her company is completely family-owned and operated, placing emphasis on the environment. Shipping is carbon neutral, and the products are grown using regenerative farming practices.
Joy Smith began looking for CBD products but found that they didn't seem to have much effect. This inspired her mission to create a CBD healthcare company, her goal being to give customers quality CBD products that work.
Joy Organics sells CBD creams that are certified USDA organic and promise to bring you nothing but joy (pun intended)! Joy offers a wide variety of CBD topicals. However, you can pick up a 1 oz bottle of their premium CBD cream for $26 infused with 250mg of cannabidiol.
Lab Testing
All of Joy Organic's products are lab tested. The reports are available on the website, listed on every product page. The third-party laboratory that tests Joy's products is known as Cannalysis.
How to Use
As per the Joy Organics website, you can use their premium CBD cream as needed. Rub the cream onto the sore/painful area on the skin slowly for joint support. Joy Organics claims that most people feel an effect within 15 minutes to an hour.
Shipping and Returns
Joy Organics proudly sells their products free of any shipping cost. There is a 30-day money-back guarantee to return products. Anyone can purchase from the United States, but unfortunately, this company doesn't offer international shipping.
Pros:
Third-party lab tested
Free shipping
Exceptional customer care service
Provides a 30-day money-back guarantee
Provide double reward points for first-time buyers
Cons:
Unscented
The packaging could be better
No international shipping
CBDPure was founded in 2016 on a mission to create the world's best CBD oil. They are a family owned company based in Washington. They sell CBD oil, cream, softgels, and a CBD pet product. They strictly extract their products using supercritical CO2 extraction instead of chemicals, the cheaper alternative, and avoid using pesticides by growing only organic hemp.
CBDPure is yet another brand that created their own unique formula of cannabidiol cream to help with muscle stiffness and pain. Their CBD cream also contains menthol and white willow bark to enhance the cooling, soothing effect of the topical.
CBDPure claims that their CBD cream produces effects within 2 to 3 minutes of use. You can purchase their 3 oz tube for $39.99 on the CBDPure website, containing 250mg of cannabidiol.
Lab Testing
All CBDPure products are third party lab tested. They also publish their reports online, making them publicly available to any curious customers. CBDPure products are tested for the following: Cannabinoid Profiling, Pesticide Testing, Microbiological Screening, Terpene Analysis and Residual Solvent Testing.[8]
How to Use
CBDPure claims that their CBD cream works faster than any other. According to their instructions, simply rub a pea sized amount of cream on the desired area of skin. Within 2 to 3 minutes, most people will begin to feel the relieving effect.
Shipping and Returns
One thing that sets CBDPure apart from the rest is that they have a 90 day money back guarantee. If you are not satisfied with your product, you have 90 days to return it and will receive a full refund.
CBD ships to all 50 USA states, as well as the United Kingdom and Canada. However, they do not ship internationally to any other countries. Shipping costs about seven dollars in the United States.
Pros:
Have  menthol and white willow bark
Whole hemp plant extract
Colorado grown hemp is used
90-day money-back guarantee
Larger product size for less
Cons:
 Small amount of cannabidiol (250 mg)
 Shipping is $6.95
 Small variety of available products
If you want to learn more about CBDPure products visit here.
Research on CBD for Pain Management
CBD is a fairly new discovery in the world of healthcare, which is why studies on it seem to be so limited. However, there has been a small amount of studies conducted proving CBD's legitimacy. 
Testimonials also provide real and firsthand experience with CBD. For example, Kyle Wright of NYC who had been living with mild scoliosis and body aches was offered CBD cream in a street fair. After trying it, he claimed that his pain seemed to just disappear after 15 minutes of applying the topical. Eventually, he went off of painkillers and made the switch to natural CBD creams and lotions.[10] This is just one of many testimonials given on CBD's legitimacy; for many people, it seems to work like a miracle.
According to a study conducted recently by Harvard University, cannabidiol produces promising effects when it comes to pain relief. This experiment was done on rats. In fact, in certain areas of the nervous system, CBD was ten times more potent than morphine in pain treatment– that's a major number! Additionally, Sativex, a hemp medicine containing equal parts THC and CBD was approved in Canada for treating multiple sclerosis and even cancer pain. This Harvard study also found the cannabidiol is a greater antioxidant than Vitamin C and Vitamin E.[11]
CBD Oil vs CBD Cream: Which is the Best to Manage Pain
You may have read earlier in the article that CBD oil is another option. In fact, you may experience the effects of CBD oil faster than those of CBD cream because of the way that it is taken sublingually. Although oil may seem like a more rapid and concentrated method for CBD, it is typically used for the treatment of anxiety and mood regulation rather than physical pain. 
Especially when it comes to targeted pain or arthritis, a topical works best by being applied onto a specific area where you would like to treat the pain. According to the Arthritis Association, 55% of adults with arthritis use a topical hemp product, such as CBD cream, every day to help symptoms. [13] CBD creams are also a better option for sudden, infrequent, or randomly occurring pains, while oils are best for use on a regular schedule. If you want to learn more about how CBD oil can help with managing pain you can click here.
How CBD Cream Can Help Alleviate Pain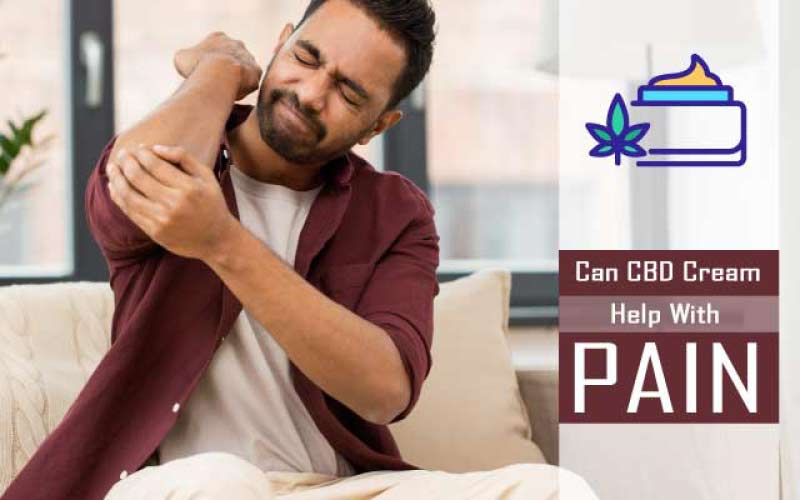 As a topical solution, CBD creams specialize in treating pain and muscle soreness. A study from the European Journal of Pain shows that topical CBD cream applied on an animal reduced arthritis symptoms as well[4], creating an interesting premise for research on CBD and human arthritis.
Let's get into the science: everyone has an 'endocannabinoid system'. It's a part of your nervous system containing endocannabinoid neurotransmitters and cannabinoid receptors. This system has newly been discovered by scientists, which is why there hasn't been a lot of studies conducted on CBD in humans.
However, that's not to say it isn't important. The endocannabinoid system actually affects many aspects of your health; it plays a role in cell communication, immune response, appetite and metabolism, and memory[5]. These endocannabinoid neurotransmitters bind to the cannabinoid receptors in your brain and immune system.
There are two types of main cannabinoid receptors; CB1 and CB2. CBD functions by binding to these receptors in your nervous system. When we don't have enough endocannabinoids being produced in our body naturally, we might face illnesses like depression and anxiety, psoriasis, fibromyalgia, and other painful symptoms[6]. By using products with CBD, we are allowing more CBD into our endocannabinoid system to bind to receptors and relieve these painful symptoms.
Using a topical CBD cream relieves pain through pores in the skin, bringing you relief for muscle soreness and arthritis symptoms. In fact, many famous athletes swear by CBD products to help with inflammation as well.
How to Use CBD Cream For Pain
According to Medical News Today, CBD cream should simply be rubbed onto the desired area of the skin focusing particularly on any areas in pain, inflamed, or just anywhere you want to soothe. MNT states that the CBD cream works not only at the upper epidermal layers, but also is absorbed into the skin and helps soothe deeper muscle levels. In some cases, using CBD cream can also help with better sleep.[9]
It is best to start with a CBD cream of a medium or low dosage, for example any cream ranging from about 400-600mg. A dose of around 600mg is the typical dose for the average adult. If you find that a low CBD dose is not producing the desired effect, simply try out a higher CBD concentration until you discover what works best for you.
How Long Does it Take for CBD Creams to Work?
The amount of time needed for the effects of CBD cream to kick in can vary depending on the person, CBD dosage, and pain levels you are trying to treat. According to Healthline, CBD oil and vape products will start producing their effect after about 15 minutes of use. However, CBD topicals work harder because of their less direct method into the body, skin absorption. Due to this, it is typical of a CBD cream to take approximately one hour to show effects[12], although some may begin seeing and feeling results within minutes of applying.
What To Look For When Buying CBD Cream Online
There are many factors one must take into account when purchasing a quality CBD cream. Although there are clearly many brands selling these topical cannabidiol products, each is very different. Here's some key distinctions you should pay attention to before purchasing your own CBD cream:
Lab Testing
CBD-containing health care products are not yet approved by the FDA (although they are still perfectly legal to buy and sell). But because of this, it's important to ensure that you are getting CBD cream that has been lab tested to know that the product you are using is one hundred percent safe.
If a CBD company doesn't work with a third-party lab to check their CBD products, it's risky to buy their products because they could be getting away with incorrect information. For products like those, we advise you to stay away.
You can check out the product's website to find evidence on whether or not they have been tested. For most lab-tested CBD cream brands, you will usually see a link that will take you to the lab reports where you can view the real results for yourself. Some brands that offer their own lab reports on their websites include FAB CBD, Medterra, and Joy Organics.
CBD Concentration
Every CBD product has a different amount of CBD; you may notice that some products contain amounts like 250mg, while others are up at 1000mg. A higher concentration may seem better, because you will think it has the clearest, most rapid effect. However, this isn't necessarily true.
Each and every person will experience the effects of CBD cream differently. So, jumping at the highest available option isn't the best way to do it. It is actually recommended to start at a smaller dose of CBD before going on to something like 1000 mg. Most recommend 500 to 600 mg as a good amount for the average person.
If you have tried out this amount and feel like it's too much, you can go down. If it's too little, experiment with more! Remember, CBD cannot harm you if you are using it as directed.
Other Ingredients
Many CBD creams are actually infused with a multitude of other ingredients. These can include essential oils, menthol, etc. While these additives add to the positive effect of the CBD cream, there is a reason to watch out. Not all CBD brands are 100 percent naturally derived, and therefore may add harmful chemicals into their products. To ensure you are purchasing a natural product, check the company's product page to view the item's ingredients.
Additionally, the quality of the CBD extract itself can make a world of a difference. Some companies use whole hemp plant extract, which infuses the product with not only the cannabidiol compound, but also with all the other good stuff that's in the hemp plant. However, some companies use a cannabidiol isolated extract, which doesn't give you all the benefits of hemp. FAB CBD and Joy Organics are a couple brands that use the whole hemp plant extract. Medterra is an example of a brand that uses a CBD isolate extract.
CBD Creams and Safety
CBD creams are a safe, easy, and completely legal method to taking full advantage of cannabidiol's many benefits. The effects occur when the CBD-infused creams are rubbed onto the skin and enter the body through the skin's pores.
As for the safety of creams, these creams are perfectly safe to use for adults. Not enough studies have been done to prove whether or not they are safe for children. Thus, CBD creams are made targeting those aged 21 or older. Nursing or pregnant women should stay away from CBD products because scientists are unsure of their effects on developing fetuses.
Although it is safe, it can have negative effects if taken along with medication like Xanax or opioids, and even alcoholic products. Speaking to a healthcare professional is always a great idea before beginning a topical CBD treatment, especially if you are on medication.
And remember to get your CBD products from reputable sources– if you're getting it from someplace sketchy, there's a high risk that the product may contain increased levels of THC. There may not even be as much CBD as advertised, creating a low-quality product.
CBD doesn't typically produce any side effects. However, you may experience fatigue, a dry mouth, or a reduced appetite[7]. Ensure that you have spoken with a medical professional if you are taking other medication. Lastly, try gradually increasing your CBD dose as you begin, beginning with a smaller dose and going up to an average one (or any dose that you feel comfortable with).
Possible Side Effects of CBD Cream
Like any medical solution, CBD does have some possible side effects which may be good for you to know before making a purchase. Most importantly, CBD products that have not been third party lab tested can have a very high risk of side effects (and they may be lying about what ingredients are really in your product). Through lab testing, CBD products are checked for THC, heavy metals, toxins, and other chemicals. Luckily, our list of the top 5 best CBD creams for pain contains only lab tested CBD brands. 
According to Dr. Brent A. Bauer of Mayo Medical School, CBD can have unwanted interactions with other medications such as blood thinners. Therefore, it is imperative that you consult a doctor before trying out CBD while on medication. Also, CBD may cause dry mouth, gastrointestinal symptoms, fatigue, and a reduced appetite[14].
Final Thoughts on CBD Cream for Pain
Ultimately, CBD creams are a great option for fast, natural, and soothing pain relief. Utilizing the endocannabinoid system unlocks a new world of possibilities for treating pain through cannabinoid receptors located all around the body and brain. Our specially compiled list is a great resource for those who are just starting to discover the wonders of CBD but don't know what to buy, and also for seasoned CBD customers who want to go over some information before their next purchase.
We hope you enjoyed our mini-guide to all things CBD cream. Be sure to let us know about any further questions or feedback you have so that we can provide you the best experience and information for the future.
Sources
[2]FDA Regulation of Cannabis and Cannabis-Derived Products, Including Cannabidiol (CBD) – https://www.fda.gov/news-events/public-health-focus/fda-regulation-cannabis-and-cannabis-derived-products-including-cannabidiol-cbd
[3]Industrial Hemp – https://www.agmrc.org/commodities-products/fiber/industrial-hemp
[4]Cannabidiol (CBD) — what we know and what we don't – Harvard Health Blog – https://www.health.harvard.edu/blog/cannabidiol-cbd-what-we-know-and-what-we-dont-2018082414476
[6]How CBD Affects the Endocannabinoid System – Elite Learning – https://www.elitecme.com/resource-center/rehabilitation-therapy/how-cbd-affects-the-endocannabinoid-system
[7]CBD: Safe and effective? – https://www.mayoclinic.org/healthy-lifestyle/consumer-health/expert-answers/is-cbd-safe-and-effective/faq-20446700
[8]Frequently Asked Questions about CBD Oil Products – https://www.cbdpure.com/faq.html
[9]

CBD skin cream: Benefits, uses, and best options – https://www.medicalnewstoday.com/articles/cbd-skin-cream#what-to-look-for

[10]Does CBD Work for Pain Relief? –

https://health.usnews.com/wellness/articles/2019-01-07/does-cbd-work-for-pain-relief

[11]

Cannabinoids in the management of difficult to treat pain – https://www.ncbi.nlm.nih.gov/pmc/articles/PMC2503660/

[12]How long does it take for the effects to kick in? –

https://www.healthline.com/health/how-long-does-cbd-stay-in-your-system#onset-time

[13]

CBD Topical Pain Cream vs. Oil Tinctures: What Is Right For Me – https://redeemrx.com/blogs/news/cbd-pain-cream-vs-cbd-tinctures-which-is-best-for-you

[14]

CBD: Safe and effective? – https://www.mayoclinic.org/healthy-lifestyle/consumer-health/expert-answers/is-cbd-safe-and-effective/faq-20446700