Finding a company with the best CBD is no easy fit. This is because the market is infiltrated with so many brands. However, there are reputable brands that have a solid consumer base due to their quality CBD products. Charlotte's Web is one of these brands and it's known for its broad range of high-quality CBD products. In this article, we look at Charlotte's Web CBD review and the products that make this company popular.
About Charlotte's Web
Charlotte's Web is a CBD company that was founded by the Stanley Brothers in 2013. The company's aim was to help Charlotte Figi, a young girl who had a rare form of epilepsy known as the Dravet Syndrome. Charlotte Figi's story caught media attention including high-profile sites such as the New York Times. The key highlights included how cannabinol had been beneficial in helping to significantly reduce the symptoms.
The brothers had developed a hybrid strain of hemp. It was rich in CBD content and without the psychoactive effects of THC. This type of CBD improved Charlotte's medical condition and general wellness until she passed on in April 2020. From 2013, the Stanley brothers decided to work on this type of hemp strain for sell and they named their company Charlotte as a tribute to the young girl.
Charlotte's Web: Company Highlights
This is a company that has been in the limelight since it was established. Apart from advocating for the use of CBD oil to treat epilepsy, here are some of the company highlights of Charlotte's Web CBD Company.
Charlotte's Web is a certified member of the B Corp. The company is committed to offering its customers accountability and product transparency. One of its main campaigns is to ensure that customers get quality CBD products and effectively use to enhance their wellness goals. The key highlights of this company include:
Charlotte Figi: This CBD brand caught the attention of the world by highlighting Charlotte's Figi story. They set an example to other brands regarding the benefits of CBD products. Even though this girl is no longer with us, her story has been an inspiration, causing a shift in the use of medical cannabis. At the moment, the FDA has approved the use of Epidiolex to manage certain forms of seizures.
Certificate of Analysis: customers can easily access the company's certificate of analysis directly on the website. This certificate highlights the components of cannabis and other ingredients. Besides that, it's also vital in ensuring that every product batch is made as per the information in the specifications. There are details such as the level of the solvents, heavy metals, THC content, and pesticides among others.
Love Reward Program: every time you make purchases, you earn points as per Charlotte's Web love reward program.
Cost-Effective Products: this company has an updated price structure and its products generally offer good value for the money. The price to CBD oil quantity and quality ratio is quite impressive.
My Personal Experience with Charlotte's Web
Charlotte's Web CBD products are effective in promoting wellness. The brand's gummies, for instance, usually produce long-lasting results. They are, therefore, appropriate in managing pain and inflammation. For instant effective, Charlotte's Web CBD tinctures while the topical products are great in managing localized pain. You can use them to treat muscle and joint problems.
The tinctures, on the other hand, normally produce instant effects.  I find them ideal for use when treating anxiety, depression, and stress disorders. Generally, Charlotte's Web CBD oil products are effective with minimal side effects.
Pros and Cons
Charlotte's Web is a brand that has been around for quite some time. There are lots of positive reviews about thanks to its wide range of high-quality products. So, what are some of the advantages of buying CBD oil from this brand? Besides that, are there some downsides to expect?

Pros of Charlotte's Web
A good breadth of products
The CBD products are relatively inexpensive
The company offers a good level of transparency
Every product batch normally undergoes independent lab tests
The hemp extracts come from US-grown sources
Cons of Charlotte's Web
The company has previously received a warning from the FDA
They need to ensure that the CBD content matches with what's on the product label
Popular Products Offered by Charlotte's Web
As a brand with status, there are multiple formulations that you can find in Charlotte's Web website. They come in different concentrations and are ideal for various purposes. From this Charlotte's Web CBD review, here are some of the popular products from the brand:
Charlotte's Web: CBD Oils
Charlotte's Web CBD oil has been crafted with care. The effective and quality tinctures are the fruits of love and effort put by this brand. The cannabinoid-rich oil is not only made with CBD but also CBC and CBG. Besides that, there are other phytocompounds that promote overall wellness.
The oil from Charlott's Web is a full-spectrum extract that normally produces the entourage effect. It works with the endocannabinoid system to produce effective and long-lasting results. To ensure that you get a product that caters to your needs, here are some of the available CBD oils offered by Charlotte's Web.
7 mg / ML: It has the lowest strength among Charlotte's Web CBD oil products. This is a beginner-friendly package that comes with a low potency. It's ideal for treating mild, everyday health complications.
17 mg/ ML: it's ideal for beginners or those who want a small concentration of CBD oil.
50 mg/ ML: it's a highly potent CBD Oil. The high-quality and original formula comes in two packages: 30 ml and 100 ml. It's generally a perfect remedy for handling painful conditions that require the powerful CBD effects.
60 mg/ML: It is a super-potent type of CBD from this brand. 60 mg/ml contains the highest concentration of CBD per serving. It's extracted using the quality C02 extraction hence it's pure and effective.  For flexibility in use, 60 mg/ ML CBD normally comes in 30 ml and 100 ml packaging.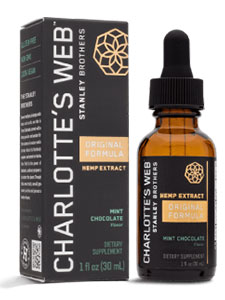 Highlights of Charlotte's Web CBD Oil
Effective in treating everyday pain and progressive conditions
Full-spectrum CBD oil rich in cannabinoids and other phytocompounds
Several strength options ranging between 7 mg/ 1 ML to 60 mg / 1 ML.
There are 4 distinct flavors to choose from: olive oil, orange blossom, lemon twist, and mint chocolate.
3rd-party lab-tested, organic, non-GMO, and vegan-friendly.
Charlotte's Web CBD Gummies
There is no better way to taste the delicious flavor of Charlotte's Web CBD other than using gummies. This formulation is one of their best CBD for pain, easing discomfort, and supporting other aspects of wellness.
The taste of the raw hemp plant can be annoying and this may affect you if you have to use CBD orally. However, you no longer have to worry about this because these delicious edibles are made with natural fruity flavor options. The gummies consist of botanical elements that blend to support and nourish the body. There are several types of CBD edibles from Charlotte's Web and they include:
CBD Gummies: Sleep
It's your right-hand solution if you are struggling with sleeplessness or insomnia. CBD gummies for sleep contain cannabidiol and melatonin. This is a powerful combination that improves the quality and quantity of sleep.
The full-spectrum extract contains terpenes, flavonoids, and phytocannabinoids.  With 10 mg CBD per serving, using this product guarantees you better sleep cycles every night.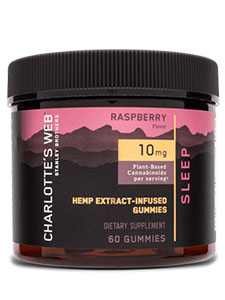 Highlights
Full-spectrum and non-GMO CBD gummies for sleep
10 mg CBD and 3 mg melatonin per serving
Formulated with natural ingredients that promote better and regular sleep cycles
CBD Gummies: Calm
Are you struggling with anxiety or stress? Well, Charlotte's Web has CBD gummies that can promote a therapeutic and calming effect. These organic products are formulated to perfectly meet all the stressful situations that life throws at you.
Charlotte's Web CBD calm counter the effects of everyday stresses. the products support a sense of calm and relaxation. Not only do the edibles contain cannabidiol but also a botanical blend of lemon balm.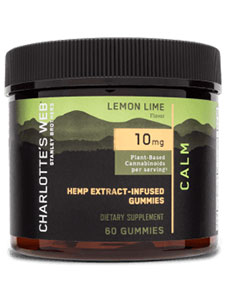 Highlights
Contains 75 mg lemon balm and 10 mg CBD per serving
The edibles contain a powerful botanical blend of natural ingredients that help to support relaxation
The gummies ease normal anxiety
Effectively manages everyday stressors
Encourage relaxation without drowsiness
CBD Gummies: Recovery
Your recovery process can be significantly enhanced by taking an organic edible. Charlotte's Web Recovery CBD gummies are not only delicious but also squishy. They are effective in supporting your recovery process thanks to the anti-inflammatory properties of CBD.
These gummies are specially crafted with a botanical blend of ingredients. This includes ginger, turmeric, and the brand's proprietary blend of whole-plant hemp extract.  With the powerful anti-inflammatory effects, the organic blend helps to treat exercise-induced inflammation and injuries. Overall, the gummies support joint health and strength.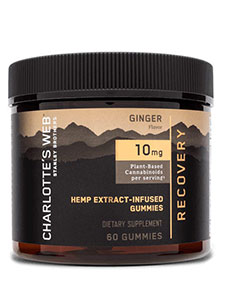 Highlights
Contains CBD + Ginger + Turmeric
10 mg CBD, 25-50 mg ginger, and 50 mg turmeric per serving
Supports the development of healthy joints
Helps to maintain joint mobility
Supports healthy recovery from exercise-induced inflammation
Flavored with natural juices from fruits and vegetables
Charlotte's Web CBD Capsules
Generally, capsules provide an odorless and tasteless way of taking CBD orally. They are complete opposites of CBD gummies even though their mode of intake is the same. The tablets offer convenience and discreetness in that you can take them anywhere, anytime.
Charlotte's CBD capsules have been uniquely crafted to enhance its efficiency. Unlike the regular capsules, these ones are liquid-filled. You might be wondering what this means, right? Well, the hemp extract products now contain a higher concentration of CBD compared to powered-filled capsules. Additionally, they are cheaper. Note: The liquid-filled CBD capsules by this brand are quite different CBD soft gels. The former is made with cleaner ingredients with a higher CBD oil concentration. Besides that, they have thinner capsule walls that help them to quickly disintegrate once they reach the digestive system. As a result, the compound gets easily absorbed into the bloodstream.
15 mg CBD Oil liquid Capsules: they are beginner-friendly capsules that are ideal for everyday use. The plant-based cannabinoids are perfect additions to any wellness routine and they come in 30, 60, and 90-count bottles.
25 mg CBD oil liquid capsules: these are high-potency products made with proprietary hemp genetics. They are the go-to formations for those suffering from chronic pain and inflammation. The capsule count includes 30, 60, and 90.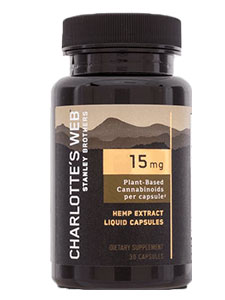 Highlights
15 mg or 25 mg CBD per 1 ml serving
100% CO2 extracted
Derived from organic, USA-Grown hemp plant
Manages everyday stress and supports a sense of calm and focus
Charlotte's Web: CBD Topicals
For starters, Charlotte's Web has the best topical CBD cream for pain. The product provides the body, especially the joints and muscles with localized and lasting effects. It should be noted that this brand works in partnership with CBDMEDIC to produce some of the best active topical pharmaceuticals on the market. Some of the brand's topical products include:
Arthritis Aches and Pain Relief
These topical products are considered to be nature's best when dealing with symptoms of arthritis. The Arthritis Aches and Pain Relief Cream has been carefully formulated for faster penetrative effect and absorption. It provides temporary relief from painful arthritic symptoms.
Highlights
Easily penetrates the skin and delivers faster temporary pain relief
Blended with THC-free hemp extract and other natural moisturizers
Contains 200 mg CBD hemp extract per bottle
Classic delivery and effective for arthritis
Cooling and Moisturizing Hydrogel Patches – 5CT
Made with the Advanced Formula Powered by Nature™, Charlotte's Web's CBDMEDIC cooling and moisturizing hydrogel CBD patches normally delivers a serious and lasting soothing sensation.
The mess-free and easy-to-use topical product is made with soft hydrogel technology. As a result, it feels smooth on the skin due to its thin, cushioned, and flexible layer. You can always wear it comfortably under any clothing.
For a high level of effectiveness, the THC-free CBD hemp extract is blended with potent botanical extracts. Each patch can last up to 8 hours, leaving the skin feeling fresh, moisturized, and cool throughout the day.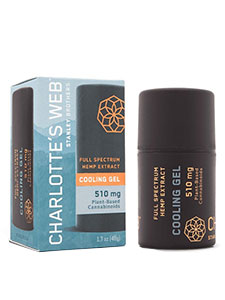 Highlights
Quality product by CBDMEDIC that's safe and pure
Provides mess-free, easy, and discreet application
Made with a thin and cushioned layer that comfortably lays under any clothing
It can last up to 8 hours or more
No hair pulling and produces an ultra-comfortable feel
Effective for use on the shoulders, back, hip, arm, leg, and neck
Acne Treatment Medicated Cream
Until now, acne has no cure. The only treatment options that are available clinically are for management purposes. But did you know that you can also use CBD topical to manage your acne naturally?
Charlotte's Web has medicated acne treatment cream. It helps to clear up whiteheads, blackheads, pimples, and blemishes. Consistently using this topical treatment cream allows the skin to heal and results in a glowing appearance.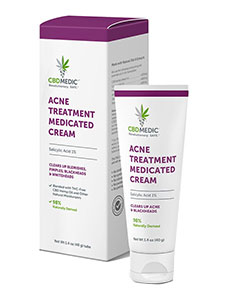 Highlights
Contains 200 mg CBD hemp extract and 1% salicylic acid
Blended with THC-free hemp extract and other moisturizers
Perfect for use on the face
The medicated cream helps to clear up and treat the skin from blemishes, scars, and pimples.
Soothes and heals the skin
Eczema Therapy Medicated Ointment
There are lots of skin issues that are difficult to cure, eczema being one of them. This is atopic dermatitis and it normally makes the skin red and itchy. The chronic condition is long-lasting and heroically flares up.
To manage it in a natural way, you can use Charlotte's Web Eczema Medicated Ointment for therapy. The fast-absorbing product needs to be applied to the troubled area for improved efficiency and effectiveness.
It's worth noting that this ointment is gentle and soothing to the skin. Its effectiveness is not only based on CBD but also a blend of other organic ingredients. This includes essential oils, colloidal oatmeal, and natural emollients.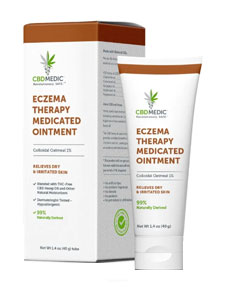 Highlights
Each tube contains 200 mg CBD hemp extract
Blended with THC-free hemp extract, essential oils, natural emollients, and colloidal oatmeal
Suitable for use on torso, legs, and arms.
Back and Neck Pain Relief Ointment
Don't let back or neck pain limit your mobility. With this organic pain relief product, pain can no longer rule your day. CBDMEDIC back and neck pain relief ointment offers temporary but targeted pain relief.
It has been uniquely designed to help soothe minor lower and upper back pain. This includes easing muscle soreness, injuries, bruises, and sprains. Besides that, you can use it on the neck, waistline, shoulders, and other places.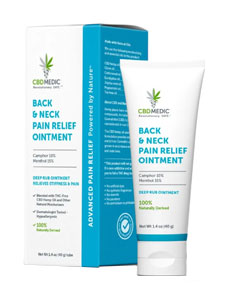 Highlights
Contains THC-Free Hemp Extract & other natural moisturizers
200mg CBD Hemp Extract per 40g Tube
Made with ingredients from nature including myrrh oil, frankincense oil, argan oil, menthol, and camphor, etc.
Provides fast, targeted, and temporary pain relief
Ideal for areas such as the lower back, upper back, shoulders, and neck region.
Foot & Ankle Pain Relief (Ointment & Stick)
Both the ointment and stick are proprietary formulations designed to reduce minor pain. This includes areas around the ankles, feet, and toes. Foot and Ankle Pain Relief provides specific and temporary pain relief by deeply penetrating to the source of pain.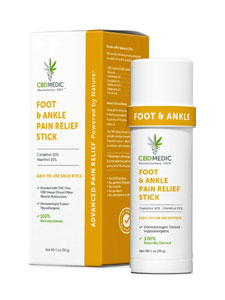 Highlights
Provide temporary and effective therapeutic effects
Stops pain in its tracks by deeply penetrating to the source
Blended with THC-Free Hemp Extract & Other Moisturizers
200mg CBD Hemp Extract per 40g Tube
Contains 15% menthol and 10% camphor
Travel-friendly and less messy
Suitable for therapeutic benefits in areas such as the toes, ankles, and feet
Muscle & joint pain relief (ointment & spray)
This ointment and spray were carefully designed for instant effects. You can carry the product with you while on the go thanks to its portable size. The pain relief spray was designed with your needs in mind.
If you buy this product, you will find that it's easy to grip and very easy to pump the spray out of the bottle. Additionally, it features a combination of organic ingredients that effectively give your sore spots on the body temporary pain relief.
Highlights
Provides ease of use with its compact size and easy-to-pump design
Fast-drying medicated pain relief spray
The easy-to-grip bottle provides an easier way of addressing large, small, and targeted areas
Quickly eases minor discomforts in some areas temporarily
200mg CBD Hemp Extract per 50ml Bottle
Contains 10% menthol and 3.1% camphor
Ideal for application areas such as the upper back, lower back, elbows, knees, feet, and torso.
Active Sport™ Pain Relief (Ointment & Stick)
This stick and ointment collection is a must-have for wellness enthusiasts. The product has been made for those who lead active lifestyles that involve constant exercises and working out.
Active Lifestyle provides temporary pain relief on the go. It targets painful and sore minor muscles as well as joints in distress. Besides that, it's ideal for use by those with bruises, sprains, and strains. What makes it even more attractive is its ability to create less mess unlike, traditional creams and ointments.
It's an organic product that works naturally, allowing you to rediscover the way your body recovers. For a high level of effectiveness and optimal performance, Active Sport CBD Pain Relief Stick and Ointment can be used before, during, and after workouts.
Highlights
It provides users with a new way to quickly and naturally recover
You can carry it around because it's convenient for use while you're on the go
The formula can be used before, during, and after workouts
200mg CBD Hemp Extract per 30g Stick
Made with ingredients from nature including cannabidiol, camphor, menthol, honeysuckle oil, myrrh oil, and frankincense oil
Suitable for easing sports injuries and ideal for areas such as the arms, legs, shoulders, and torso.
Massage Therapy Pain Relief Oil
Nothing leaves the body feeling relaxed and rejuvenated like a good message. However, you can take your experience to a whole new level with CBD massage. Charlotte's Web CBD massage therapy pain relief oil provides an effective way of soothing the body.
The proprietary massage therapy pain relief oil effectively eases pain and discomfort temporarily. It works by reducing the stiffness and uncomfortable feeling that's associated with sore, tired, bruised, or aching muscles.
This product is made with organic ingredients that blend to form a powerful topical product. This includes cannabidiol in combination or essential oils that help to relax and revive muscles in different parts of the body.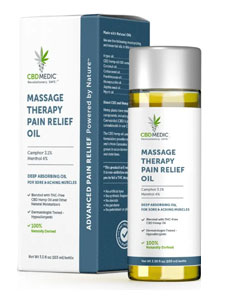 Highlights
200 mg of CBD extract per 103 ml bottle
Made with nature's best ingredients including jojoba seed oil, honeysuckle oil, myrrh oil, coconut oil, and argan oil among others.
Has deep and quick penetration
Suitable for massaging areas such as legs, arms, shoulders, and torso.
Charlotte's Web: CBD Isolate
Full-spectrum CBD has lots of benefits, especially if you are dealing with chronic pain and want long-term effects of CBD. However, there are those who need the sole effects of CBD. Charlotte's Web caters to your specific needs by selling THC-free CBD isolate supplements.
This is a customized product that allows you to conveniently add hemp to your wellness regimen. CBD isolate supports your overall wellness, when you need it, and how you need it every day. The dietary supplement improves cellular and molecular health, offering the perfect balance to the body.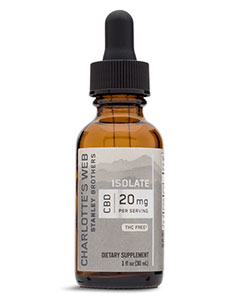 Highlights
Contains US Hemp Authority certificate that guarantees reliability and safety
Each serving contains 20 mg CBD per 1 ML
Organic, non-GMO, and vegan-friendly hemp
THC-free and unflavored CBD oil
Supports overall balance of health at the cellular and molecular level
Effectively manages everyday stress, treats pain, and inflammation.
Charlotte's Web: CBD for Pets
If you have pets, especially dogs, they can greatly benefit from cannabidiol products. Charlotte's Web has a wide range of CBD products designed for your furry friends. Whether your dog is suffering from mental or physical health complications, CBD for pets can help to promote a sense of relaxation and focus.
The latest and newly-expanded product line for pets features products in different concentrations. Besides that, they come in multiple forms including topical products and tinctures that support the mind, body, and soul of the pup.
Full Spectrum Hemp Extract Drops W/17mg CBD for Dogs
This is a whole-plant extract that's made of quality cannabinoids. The full-spectrum hemp extract contains 17 mg CBD per serving and comes in 100 ml and 30 ml. This is a potent concentration that makes the oil effective in dealing with pain and discomfort.
For efficiency, the oil drops come in a pump and flavored options. So, your picky eater will definitely not have an excuse.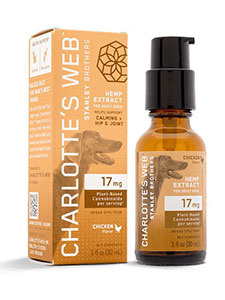 Highlights
Comes from organic, USA-grown hemp extract
Whole-plant hemp extract featuring full-spectrum hemp-derived cannabinoids, including naturally occurring CBD.
Only the best CBD oil in the market made with are made with quality hemp extract.
Charlotte's Web proprietary full-spectrum hemp extract is blended with digestible MCT oil.
Contains 17mg of plant-based cannabinoid per serving.
The CBD oil for dog comes in two bottle sizes: 30 ml and 100 ml
There are two flavor options to choose from: unflavored and chicken0flavored varieties to suit different taste preferences of various pups
Delivers outstanding and lasting results within a short period of time
Calming Chews for Dogs
Dogs have the endocannabinoid system just like human beings. Besides that, they exhibit some behavior similar to that of human beings. They can get worried or even deal with anxiety triggers or time to time,
Well, this kind of stress can't be cured but it can be managed by an organic product such as cannabidiol. Luckily, Charlotte's Web has quality calming chews that can easily take the stress out of your furry friend. The edibles which are made with cannabidiol in addition to other herbal extracts promote a sense of calm in the dog's body.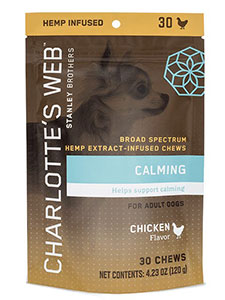 Highlights
Features a botanical blend of cannabidiol, valerian root, chamomile, and passionflower extract
Rage herbal supplement contains 2.5 mg CBD per serving
Provides a sense of calm and relaxation mentally and physically
The chews help to maintain normal emotional balance
Suitable for stress during traveling, moving, loneliness, and hospitalization among other triggers.
Contains organic, lab-tested, and non-GMO USA-Grown hemp
Hip & Joint Chews for Dogs
Generally, dogs are active animals that love to play, run, and jump. However, underlying medical conditions as well as injuries may make it difficult for them to move and play around. This may make your furry friend dull and moody.
But you can manage hip and joint pain at the moment using Charlotte's Web product that enhances bone strength. The full-spectrum hemp extract enhances mobility and significantly minimizes the chances of stiffness.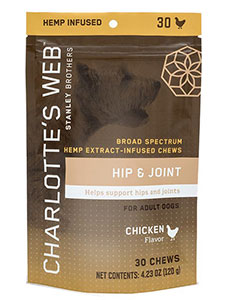 Highlights
Effective CBD chews that contain 2.5 mg of plant-based CBD per serving
Relaxes stiff joints caused by normal activities or daily exercises
The edible chews support the healthy development of the tissues and enhance the structural integrity of the joints
Maintain the health of bone function and improves the general wellness of the joints
Supports healthy joints and enhances flexibility
Chews for Senior Dogs
Senior dogs need special care and that's why there are products specifically designed for them. These goofballs need a product that can still leave them feeling good. Besides the senior CBD chews helps your pet friend to stay sharp.
According to Charlotte's Web, the CBD chews for senior dogs are made with one goal in mind: enhancing the dog's brain activity and providing natural support for the brain's health in addition to cognitive functions.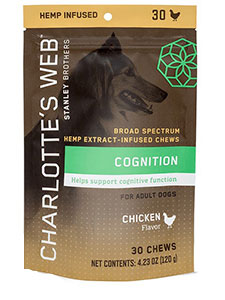 Highlights
Contains potent full-spectrum hemp extract
The chews feature a blend of botanicals such as DHA, elderberry, and vitamin E.
Each chew contains 2.5 mg of plant-based cannabinoids
Helps to manage normal stress and enhance the pet's normal brain function
Promotes a sense of relaxation and mental alertness
Supports the central nervous system
Canine Hemp-Infused Balm
This CBD product is made for dogs with sensitive skin. The canine hemp-infused balm is a topical product that helps to maintain the dog's normal skin moisture content as well as improving its general health.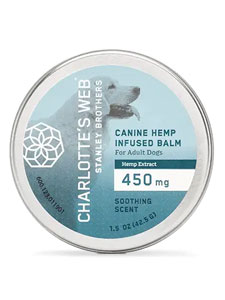 Highlights
An effective topical product that's effective for massaging into the skin
Provides deep penetration and has a soothing scent
Supports skin health
Helps to maintain normal skin moisture
Supports relief from allergic reactions and external irritations
Charlotte's Web: CBD Bundles
Buying CBD products in small batches can be expensive and time-consuming in the long-run. The best thing about Charlotte's Web is that this is a brand that understands your needs, as well as your budget. As a result, it has created several product bundles and you can end up saving up to 20% per product bundle.  They include:
The Starter Bundle
It provides the best way to start your daily routine. The starter bundle features some of the consumer favorites and they include:
6ct CBD Gummies: Recovery
6ct CBD Gummies: Sleep
Lavender Hemp-Infused Roll-On
10 ml Original CBD Oil Formula – 50 mg/ 1 ml
AM/PM Bundle
You can establish your morning or evening with this AM/PM bundle. It contains a quality plant-based extract of CBD tinctures that enhance overall wellness. This package has 7 mg and 17 mg CBD per 1 ml bottles.
Highlights
Use 7 mg for a gentle start of the day and 17mg each night
Multiple flavor options including orange blossom, mint chocolate, olive oil, and lemon twist.
CBD-rich product bundle with naturally-occurring phytocannabinoids, flavonoids, terpenes, and essential fatty acids among others.
Manages everyday stresses and enhances productivity
Promotes a sense of calmness, relaxation, and better sleep patterns
Sleep Best Sellers Bundles
According to Charlotte's Web, these are two of its best-selling products designed for those looking for improved sleep cycles.  Sleep Best Sellers Bundles lead to healthy and lasting sleep cycles thanks to its ability to naturally create therapeutic effects.
Highlights
Charlotte's Web Sleep CBD Gummies
60mg/1mL CBD Oil – 30mL Mint Chocolate
The 60 mg CBD oil manages everyday stresses and promotes a sense of focuses
It promotes faster recovery from exercise-induced inflammation
The sleep gummies promote more sound sleep
60 CT CBD Gummy Mix Pack
These CBD gummies are made with one of the most trusted hemp extracts in the world. The unique bundle helps to support general wellness including exercise recovery, sleep, and a sense of calmness.  These are delicious edibles that are crafted to help you find the best version of yourself.
Recovery Gummies
Contain a botanical blend of ginger, turmeric, and CBD
Helps to support joint health and improve joint strength
Contains 10 mg CBD per serving
Calm Gummies
Contains cannabidiol and lemon balm
Comes with 10 mg CBD per serving
Ideal for promoting focus and enhancing relaxation
Sleep Gummies
Contain 10 mg of CBD per serving
Has melatonin that helps you to easily drift to dreamland
60 Ct Sleep 3-Pack
This is a bundle of CBD product that acts as a natural sleeping aid. The 60 CT sleep pack contains high-quality CBD in addition to melatonin. This is a powerful combination that supports healthy sleep cycles.
Highlights
10 mg CBD and 3 mg melatonin per serving
Full-spectrum CBD edibles that promote sound and quality sleep
Sweet and delicious gummies
17 MG Summer CBD Oil Sampler
This product pack has some of the best CBD oil products. The 17 mg samplers are ideal for kick-starting your summer thanks to their effectiveness and refreshing taste.
Highlights
Contains CBD in addition to natural-occurring flavonoids, terpenes, and phytocannabinoids
The set offers approximately 17 mg of CBD per 1ml serving
Available in fan-favorite classics such as olive oil and mint chocolate
60 CT Calm 3-Pack
This pack basically includes CBD calm gummies. They are ideal for handling various stressful in everyday life. The edible hemp-infused gummy supports a sense of relaxation and better focus.
CBD 101 Bundle
101 CBD provides a new way of starting a CBD routine. It's a starter CBD bundle that features some of the favorites from this brand. The package normally includes:
A bottle of 30 CT 15 mg CBD liquid capsules
A bottle of 17 mg CBD oil 30 ml.
A container of hemp-infused 0.5 oz. balm
Workout Hard, Recover Harder Bundle
This package includes a pair of two CBD products: a 7 mg tincture to treat exercise-induced inflammation and recovery gummies with CBD, ginger, and turmeric.
Freedom Service Dog Bundle
Charlotte's Web continually supports American veterans as well as those with disabilities. This package was created in partnership with the Freedom Service Dogs of America for your furry friends.
It features broad-spectrum hemp extract-infused chews. The chicken-flavored edibles are ideal for treating hip and joint issues. There is a 17 mg CBD oil in addition to a bandana for your pup to wear.
Under $100 Gummy, Capsule, and Balm Bundle
This is a cost-effective CBD bundle that features 15 mg liquid capsules, CBD calm gummies, and hemp-infused balm.
Note: there are still other sets of bundles. You can literally get any type of bundle you need from Charlotte's Web depending on your needs and budget.  Versatility in terms of a wide array of product selection is what makes this brand stand out. Whether you want the best cannabidiol cream, capsules, or gummy bears, this brand has it all. From this Charlotte's Web CBD review, it's clear that this is a brand that you can depend on.
The Bottom Line
Charlotte's Web is one of the best CBD brands that we have in the market currently. The cannabidiol company consistently releases quality CBD products. Besides that, they come in different potencies and formulation. As a result, this brand perfectly caters to the different needs of consumers, based on their preferences and budget.
While this brand has products that promote wellness in humans, it also has a pet-friendly catalog that has CBD for dogs. However, make sure that you consult with your doctor or vet first before using these CBD products.